Thomas Golembiewski is the kind of guy who people genuinely like. He is well-spoken, honest, respectful, and a player who is a joy to coach. But get him out on the football field, or on the ice playing hockey, and that nice guy turns into an offensive and defensive beast. With his 6' 240- lb. frame, Thomas promises to be a game-maker again this year and is determined to do whatever it takes to help the Foxes be successful.
Coach Tom Loughran says of Thomas, "He's the kind of player that we look for as coaches. Thomas works hard to get better and is a mentally and physically tough kid. He's been a starter since he was sophomore and has progressively gotten better each year. We view him as one of our team leaders. He is well-respected by both his teammates and our staff and is a very hard worker."
An Early Start in Sports
Thomas has had football in his blood since he was 5 years old and fell in love with the game. Over the course of playing for that long, he says the game has taught him a lot about life.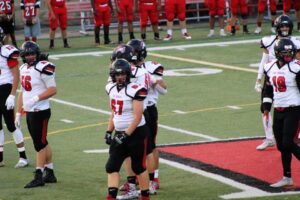 "Football has taught me so much because it makes you dig deep and push yourself to levels that you didn't think you could go," Thomas says. "And then playing on both the defense and offensive lines in the past has taught me how to be flexible. You need to know what you are doing at every position because you never know exactly where you will be asked to play, especially if someone is injured and you need to step up and be reliable."
Last season, Thomas was named a WPIAL Class 5A Honorable Mention as an offensive tackle.
He brings that same attitude to playing hockey for the Foxes on the school's club team. There, he plays defense only and plays that sport like he does football.
"I think my strength in hockey is my ability to be physical and I'm always in front of the net moving guys out of the way," says Thomas, who first put on skates as a competitive player when he was in seventh grade.
A Lifetime Learner 
There are some athletes who have had enough of their sport once they walk off the field after a game and don't care to watch games on television or attend them in person. Thomas isn't one of them. He particularly likes to see the Australian Football League, which is a combination of football and rugby. In the fall, he typically likes to watch NFL and college games.
"I like to watch the NFL more than college, but I like the competition in college better," says Thomas, an all-conference honorable mention pick last season. "Those guys all are hungry and play hard because they want to get to the NFL."
A real student of the game, what Thomas like to focus on in particular as an armchair fan, are the positions he plays.
"I see what some of those guys are doing and pick up ideas," he says, although the lineman is not quite sure where the coaches will place him on the field this season. "Sometimes I will try to do the same things in a game. Sometimes they work and sometimes they don't."
As far as the season ahead, Thomas says he thinks the team is looking good. "We all want to play and are confident we are doing everything we can to follow the guidelines so we can do that. The practices have been hard mentally because we are learning some new things, but all of our coaches demand perfection and I think they will help us to get things running perfectly."