When she was in high school, Fox Chapel Area 2017 alum Dixon Veltri would juggle a soccer ball and practice her foot skills against a wall in her backyard whenever she could. It was clear to just about everyone that she had a grand plan for her soccer skills. When she wasn't playing soccer, she kept herself in shape by playing year-round on three other teams – diving, track and field, and gymnastics – as well as a soccer travel team that won three state titles. She lettered in each of those sports and earned prestigious post-season honors in most of them. Her athleticism and hard work set the pace for her to continue playing her first love, soccer, and to eventually play on a NCAA Division I team.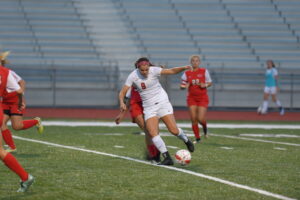 In those days, Dixon boosted her clout with the myriad honors she received, including being named all-state in her senior year, receiving All-WPIAL status twice, and being voted to the Pittsburgh Post-Gazette list of the top 12 All-Area Team. She also received a Big 56 First-Team All-Section Award in 2016, and competed in many national showcase tournaments, including the U.S. Youth Soccer National Championships and the Disney Showcase. Her efforts paid off when she was recruited by Division I University of North Carolina-Wilmington, where she started every game as a freshman.
But her heart was calling her back to her hometown, so she contacted the women's soccer coach at Pitt. Now a senior defender for the DI Pitt Women's Soccer Team, Dixon has played in nearly every game since she was a sophomore and has always been the most fit player on her teams. Dixon also has earned the most cumulative minutes played on the team. She is really living the life she always dreamed about – almost.
However, despite her dedication, there are just some things she cannot control, one of them being the fate of the collegiate fall sports season.
"A lot of things are still up in the air due to due to COVID-19," says Dixon, but she even has a plan in case the season is cancelled or postponed.
"I'm going to graduate in December 2020 with a degree in finance and economics, but I have some options in soccer, even if we don't get to play this season," says the former Foxes standout who accumulated career totals of 38 goals and 39 assists in high school and helped lead the Foxes to a 66-16-3 record. "My plan after I graduate, and if there is no season this year, is to either play for Pitt as a grad student in 2021, or try out for a professional soccer team, here or in Europe."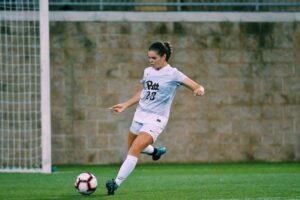 Always a Standout
"Dixon Veltri was one of the most athletic girls I have ever coached," says Peter Torres, her high school coach. "She was an extremely well-rounded soccer player who could play any position on the field, strong in the air, and very technical. There was no question in my mind that she would be a strong Division I player due to her desire to achieve success and willingness to put in the effort to be successful. It has been exciting to watch Dixon and the Pitt women and we are very proud to have one of our own on the team." (Redshirt sophomore Sarah Sinnott also is on the team and will play her first season this year.
Dixon still remembers her days at Fox Chapel Area High School with fondness. "Fox Chapel soccer helped me to prepare to compete at the highest level in college, shaped me to become a better person, and helped me to grow as a player and as a person," says Dixon, who, in her little amount of spare time, enjoys watching sunsets at Schenley Park, adjacent to the Pitt campus. "At Pitt, I've continued to do that – push myself to be the best I can be. We have a great culture here and everybody plays and works for each other."