When the girls' basketball team took on Shaler Area High School on January 28, they knew there was a lot riding on the game. It was their chance to clinch a WPIAL Class 6A playoff spot and they weren't about to squander the opportunity. They didn't and won the critical game 41-29.
"I think during the game we all had a quicker pace and made good decisions," says sophomore Ellie Schwartzman, a 5'11" forward, who leads the team in points and rebounds. "We came out for the second half and didn't let up or let them get back into the game. We didn't give up."
When the final buzzer sounded and the win was official, Ellie says of the moment, "I was so excited and it felt really good to win with such a great group of girls."
A Special Team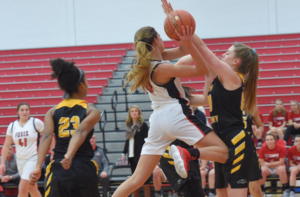 Over the years, head coach Jenn O'Shea has been in charge of quite a few basketball teams, but she says this year's squad is her best since she took over the Foxes' program five years ago. The team has been ranked by the Pittsburgh Post-Gazette as one of the top-five teams in WPIAL Class 6A for much of the season, but what makes them special goes much deeper than that.
"All of our players are skilled, they work really well together, and they genuinely love winning as part of a group effort," says Coach O'Shea.
Domenica Delaney, a sophomore guard known for her competitive and aggressive ball playing, says team unity has been a key. "This year our team is really close. You can see it in the way we share the ball on the court and the way we support each other. We push each other to be the best we can be."
Lessons Learned
Along the way, the team had some rough spots. Their toughest losses were to North Allegheny (the top-ranked team in the state), Norwin, and Seneca Valley.
"In those games, we had a lot of turnovers, got beat down the court, and didn't communicate well," says Domenica.
But they've also had games, such as the contest against Butler Area in December when they were down more than 10 points, came back to win, and then got a few more come-from-behind wins.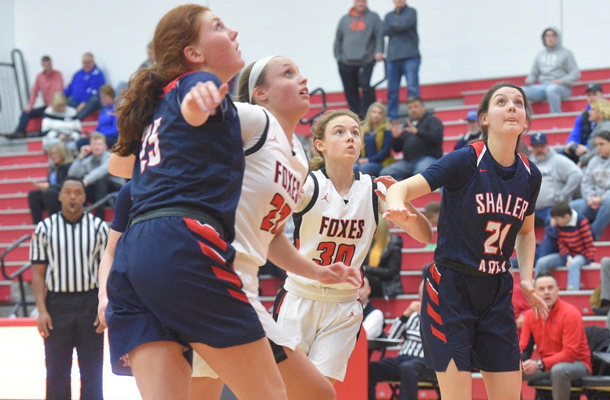 "There was a point when I thought we needed to tighten it up on defense, be better at preventing three-pointers, and just be a little more proactive," says Coach O'Shea. "They've done that and we've definitely picked up our defense in the second half of the season. They're all giving 100 percent; are focused and sticking to the game plan, and they want to be out there. They are competitors."
Ellie adds, "Sometimes, earlier in the season, I think we went into games with the assumption that we'd win, and we've realized we can't do that, especially when we get to the playoffs."
"Getting into the playoffs is a really big deal for us," says Domenica. "As the season has progressed, we've gotten stronger and we're going to give a good fight in the playoffs."
In the meantime, their coach says the team still has work to do. She's hoping for redemption in several upcoming games and says, "We weren't focused when we played Norwin and Seneca. We're more confident now, the players are sticking to the game plan, and they believe they can win. Those are games we want a second shot at."
That sentiment is on the minds of the players too. Hoping to make a difference this time around are senior varsity players Megan Friday, Danielle Moretti, and Grace Ritter; juniors Giovanna Anselmo, Claire Fenton, Gabby Guerrieri, and Kyrie Nestel; and sophomores Domenica Delaney, Samantha Dunlap, Allison Hager, Madyson Kondel, Marissa Ritter, and Ellie Schwartzman.