There were two basketball games last season that still weighed upon the minds of the Foxes' players and coaches as they began their 2020-2021 schedule. One was versus Upper St. Clair when the Panthers upset Fox Chapel Area and ruined what had otherwise been a perfect season with 20 consecutive wins. The other was the Foxes' first-round game of the WPIAL Class 6A tournament during which they were upset by Central Catholic. So, when the squad ripped through a recent week in January when they faced both teams back-to-back, their excitement was palpable as they got some sweet revenge.
The high emotions and energy that accompanied the games, on what the players called their "Revenge Tour," triggered them to perform their personal best, and that of the entire team as well. Kent Baldauf, a senior guard and co-captain, let loose during the game against USC when he relied more on his instincts. He was great offensively and cashed in on the opportunities his teammates had created for him. When the final buzzer rang, Kent had tied his career high for three-pointers with six. He also was that game's top scorer with 18 points.
Alex Baylock, also a senior co-captain, doesn't always have his efforts show up on the scoreboard, but his physical, no-holds-barred style of playing adds an extra ruggedness to the court. The forward doesn't mind doing the "dirty work," and the coaches usually pair him with their opponents' biggest players. Behind the scenes, Alex provides intangibles, such as offering his insights about the flow of the game. He also has a very vocal presence at practices as he helps to mentor the younger players, many of whom entered the lineup for the first time this season.
Up Close with Kent Baldauf
Kent's favorite pastime is watching college football, but when it comes to working up a sweat himself, the guard says it's basketball that has always been his passion. Kent started playing in first grade on recreational and travel league teams, played on the Dorseyville Middle School teams, and then made the high school's varsity squad when he was a freshman. At the end of the season, he will become a four-year letterman.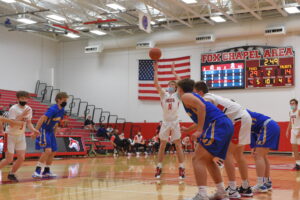 Described as a quiet, hard worker with a positive attitude, Kent has worked tirelessly, although he says, "At times it's been a long road for me. I just had to stick with it and know my time would come."
Kent actually has pretty much beaten a path in the driveway at his house while honing his skills. "I have been practicing shooting my whole life," says Kent, a member of the National Honor Society, one of the founders of the high school's biomedical engineering club, and an active volunteer in the community. "For years, I practiced about 1,000 three-pointers a day. I marked five spots on my driveway and shot from those spots over and over again. I also would shoot a hundred foul shots a day."
Kent returned to that familiar driveway before each of the Revenge Tour games as a way to mentally prepare for the tough challenges ahead. "I never miss in my driveway, and I just tried to shoot and envision myself on the court," he says. It worked. He was much looser on the court and played by instinct instead of overthinking everything. He is now on the way to where he wanted to be all along.
But he is quick to add, "Our games this season have been a total team effort. We are playing really well together. We may not have a lot of height, but we are fast."
He also has taken his role as a senior leader seriously.
"I think I lead by example and by showing the younger players that we need to take whatever is thrown our way because this is a very different season – wearing masks, possible interruptions, and no student fans. Ever since my freshman year, we've had a strong team, and I will continue to do my best to lead the team to continue that tradition."
Up Close with Alex Blaylock
Alex's story of how he got to this point is similar to Kent's. He moved up through the ranks of local youth teams until he could play on the high school team. He says he learned a lot from those who came before him the past three years.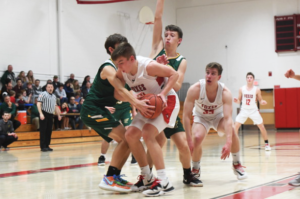 It was their examples that inspired Alex to become a strong vocal leader, especially for the younger players.
"I've been behind some great players and the seniors ahead of me always showed me what hard work was and inspired me to work harder in practices," says 6'2" Alex. "Shane (Susnak) was probably the smartest all-around athlete," Alex says of last year's senior class. "His leadership was super inspiring, and he was someone who did everything correctly so people like me could build the program the right way. Sam (Brown) pushed as hard as possible and did everything he possibly could for the team. Will (Livingston) was a tough kid because of some of the things he'd been through, and Arnold (Vento) taught me that no shot is too hard to take."
Now in the position that those players were a year ago, Alex wants to pass along the lessons he learned.
"I try to be the hardest worker on the team to reach my full potential and to help others get better," says Alex, who has quite an extensive list of interests on top of basketball. He is a member of the National Honor Society and Future Business Leaders of America and serves as a student ambassador at the high school. He is especially proud of being part of the peer-to-peer club that teaches about inclusiveness. "But when it comes to who gets credit for what, I honestly don't care all that much that what I do doesn't show up on the scoreboard. I'm just out there contributing by playing hard defense on the big guys and bringing toughness to our team. I only care that we get wins and play together."
Both Kent and Alex will be put to the test for the rest of the season as they and their teammates compete for the coveted section title. It's something they feel compelled to do for themselves, but more so to carry on the feeling of pride and to meet the high expectations that define the Fox Chapel Area boys basketball program.
---
The Foxes boys basketball team was named the Trib HSSN Boys Basketball Team of the Week for Jan. 25, 2021. Read more here.