Sarah Slember has had her share of challenges to overcome when it comes to playing basketball, but despite being injured for part of her freshman year and all of her sophomore year, the junior has come back stronger than ever, and has had a considerable impact on the Foxes' girls basketball team's success this season.
Coach Marty Matvey describes Sarah as, "one of the most well-rounded players on the team. She is a 'do it all' type of player for us, and I can put her in any position. She is a fantastic leader and mentor to our young team."
With Sarah back in the starting lineup, the team has already doubled the number of wins they had last year and is vying for a playoff berth in WPIAL Class 5A.
A Passion Handed Down
It was Sarah's grandmother who inspired her to play the sport. "She pushed me to play because she loved it and noticed that I was tall at a young age. The way she talked about it and how passionate she was about it convinced me that basektball was a sport I needed to try."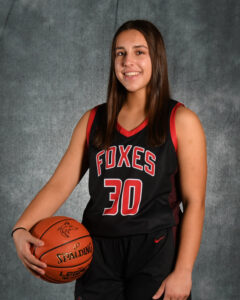 She knew by fourth grade that this was the sport she wanted to pursue.
Now a team co-captain, Sarah explains, "I've always loved basketball and the basketball environment. I love the excitement you feel when you make a game-winning shot, or the joy you feel from cheering your teammates on."
On the court, it's Sarah's physicality and strength set her apart. She worked hard to regain those qualities through intensive physical therapy to strengthen her knee after her injuries. Then, before she was cleared to return to basketball, she started rowing crew again, something she has done since seventh grade. That helped her build a base to get back in shape. Those experiences over the past two years have developed her into the player and person she is today.
Never Down and Out
Sarah knows a lot about what it means to control your own destiny, and it's something she has been doing all season. Her insights about overcoming challenges have been especially apropos in tough situations, such as when the team has been down at the half, sometimes by as many as 20 points, only to rebound fiercely, especially in the fourth period. Sarah's contributions have been key, not only in those situations, but in the entirety of each game. She is averaging 8.5 points per game and is the team's most efficient three-point shooter, averaging 36%. She is second in made threes. She's also the team's leading offensive rebounder and the second overall rebounder with 6.5 a game.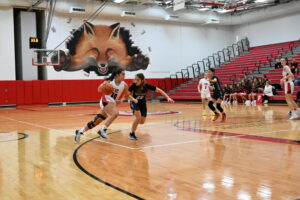 Sarah regards each game as evidence that the team is getting better at understanding each other, not just as teammates, but as friends.
"This sense of togetherness will help us to punch the whole game instead of just in the fourth quarter," she says. "I think it is really important to make sure that everyone is on the same page before going into a game so that we can just play and worry about nothing else."
"Sarah is the epitome of what we stress to the young ladies who come through our program," says coach Matvey. "We want them to be resilient and adaptable. Sarah has done just that, and it's been a real pleasure to finally watch her and her teammates hit their strides this season."