It's only two meets into the new indoor track and field season, and coach Tom Moul already knows several things for sure: the team roster is continuing to grow every year, he has some good boys and girls distance runners, and his girls sprinters, hurdlers, relay teams, and field athletes are expected to excel again this season. But what the coach likes the most about the team is that he has athletes who really seem to love the sport and enjoy what they are doing.
"We have many kids on the roster who are working hard and are hungry to get better," says the coach, who also points out that he has some great upperclassmen who are exemplary role models and leaders. "We also have a number of athletes on the team who participate at a high level in other sports and know the hard work it takes to be competitive."
Sprinters, Jumpers, Hurdlers, and Throwers
Two of the multisport athletes the coach speaks of are Anna Troutman (hurdles, high jump, and 4 x 200 relay team) and Kate Friday (sprinter and 4 x 200 relay team), both award-winning soccer players. Their interest in track not only stems from their competitive nature and the fact that they are very good at it, but the juniors also would like to play soccer in college and find track and field a good way to gain strength and stamina. Last year as a freshman, Anna broke the school record in the 60-meter hurdles and the high jump.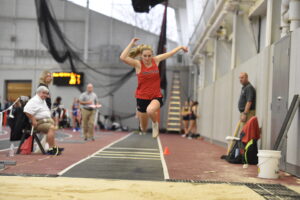 "My goals this season are simply to keep improving and pick up right where I left off last season," Anna said after the first meet held in Edinboro. "In the 60-meter hurdles, I got a 9.87, which was .01 seconds off my personal record from last year of 9.86. Getting that time motivates me, even more, to make sure I surpass my times from last year because I'm already so close.
"What I love about track and field is its consistency. Soccer can be tricky because it's always changing, and each game is so different, so you have to adapt and be ready. That aspect of soccer can be hard and is different from track, where the events are always the same and I can focus on skills and really see results in each meet."
Kate's best sprint time last year was as a member of the school's record-setting 4 x 200 relay team. This season, the All-WPIAL soccer star is concentrating on breaking her own personal records in indoor track in the 400-meter dash and 4 x 400 relay.
"I know this will not happen overnight, so I will have to train very hard now, and then for outdoor track, which is even more competitive and challenging," Kate says.
Also at Edinboro, sophomore Anna Kintner broke a seven-year school indoor track record in the triple jump (32'2.5").
First-time indoor track sprinter sophomore Alyssa Quackenbush placed third out of 54 sprinters in the 60-meter dash at Edinboro and 10th out of 96 racers at the second meet in Youngstown, OH, a much larger competition that drew nearly 120 schools from Pennsylvania, Ohio, and West Virginia.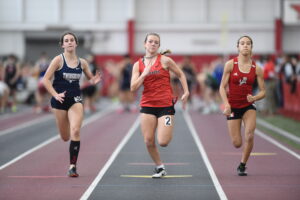 Additionally, freshman Claire Conti is giving the girls team a boost in the shotput, and senior Damian Blum finished ­­­third out of 54 competitors in the 400-meter dash at the Youngstown meet.
Distance Events
The team's top male distance runner in cross country and indoor and outdoor track, junior Rowan Gwin, came in second in the mile at the first Tri-State Track Coaches Association (TSTCA) meet and was third out of 45 runners in the 3,200 at Youngstown.
"For the indoor season, I want to run a 4:25 for the mile and 9 minutes for the 3k. I also want to run sub-two minutes for the open 800," Rowan says.
He cites sophomores Ethan Vaughn and Nicky Clump as runners who are going to have a lot of success in the mile and 3K.
"Overall, we all are focusing more on individual races this year (rather than the relays so much)," Rowan says. "With a young group like ours, there is a lot of potential to improve all around, so it's exciting to see everything fall into place."
Veteran racer junior Clara Kelley finished seventh in the 1,600 out of 67 runners at Youngstown and another distance runner, Yuqi Zhou, placed 11th in the 3,200 at that meet.
"Clara has had some injuries in the past, but she is training hard and is such a positive leader," says coach Moul. "Rowan has barely scratched the surface of what he can do. He's already faster than he was last indoor season. Nicky and Ethan are two more returners who we expect to do well. Nicky has shown tremendous improvement since last year's outdoor track season, and we are counting on Ethan to contribute a lot in the mile and the 3,000."
Freshman Marin Airik, another promising distance racer, comes into the indoor season after fine cross country performances and is continuing that momentum.
Coach Moul also expects contributions from senior Andrew Olando (jumping), junior Eileen Healy (sprints), and sophomores David Black (distance), Maya DiPasquale (sprints), and Sarah Michalak (distance). 
Relays
Last season, the girls 4 x 200, 4 x 400, and 4 x 800 relays were high points of the year. Although the mix of girls is a little different now, all three relays are expected to be contenders.
Three out of four members of the Foxes' boys relay teams graduated in 2022, but there are enough quality underclassmen to make the groups competitive.
Optimism Abounds
"It's very early, but so far, everyone has competed hard and done a very good job of preparing themselves for their events," coach Moul states. "We will see how everyone progresses and ramps up their intensity as we compete in more meets."
The team's remaining meets include another one in Youngstown on February 4 and another in Edinboro on February 11. The TSTCA championships also will be at Edinboro on February 18.
"The TSTCA championships are a big deal, and our goal is always to maximize medals at that meet," says coach Moul.
The indoor state track and field championships will be held February 26 at Penn State University.