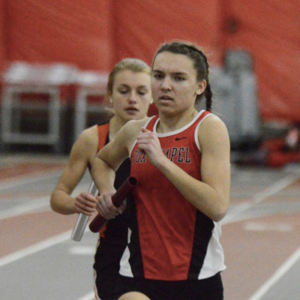 The past weeks have been busy ones for the Foxes' track and field teams as they've worked hard to improve before the May 16 WPIAL Class AAA championships. Between the Baldwin Invitational, which attracted 60 schools, and the Pine-Richland Invitational that hosted 1,200 athletes, the Foxes came home with three new school records, one gold, two silvers, and three bronze medals.
At the Baldwin Invitational, Christian Fitch won the 3,200-meter event, earning his first gold medal this season. He also participates in cross country and indoor track. Last fall, he became the highest-placing PIAA cross country runner in school history.
Kate Carnevale, a sprinter who has committed to Davidson College, broke her own school records in the 100- and 200-meter events. Overall, she placed second in the 100 at the Baldwin tournament, and third in the 200. Kate currently holds four individual records and one as part of the indoor 1,600-relay team. In indoor, she also holds the records in the 60- and 200-meters.
Grace Sisson also made history in the 3,200. She broke a 12-year-old school record with a time of 11:00.62, and placed fourth overall at Baldwin.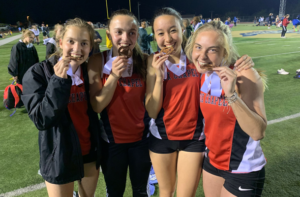 Other medalists included:
Girls 4×800 relay: second place (Brooke Krally, Grace Sisson, Abby Kieffer, and Sarena Seeger)
Girls 4×400 relay: fifth place (Abby Kieffer, Maddy Kieffer, Sarena Seeger, and Kate Carnevale)
Emory University recruit Annika Urban placed seventh in the 1,600; and junior Brooke Krally finished eighth in the same event.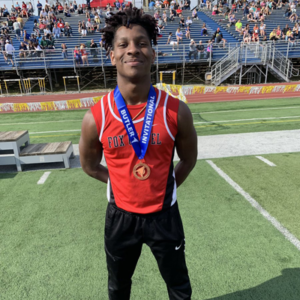 Additionally, the boys' 4×400 relay team finished sixth (Evan Kieffer, Warner Macklin, Cam Wilson, Ethan Flanders), and Warner Macklin was eighth in the triple jump
At Pine-Richland, Korey Simmons placed third in the 110-meter hurdles, Felix Veser was third in the triple jump, the boys' 4×400 relay placed sixth, and Ian Brown was eighth in the 1,600.