It's been a great summer for junior golfer Erin Drahnak. She played in a number of high visibility tournaments, and did very well in them. She practiced with a golf coach, and even golfed for fun with her family, which includes her 10-year-old sister, who is just the age Erin was when people started noticing that she had a gift for the game.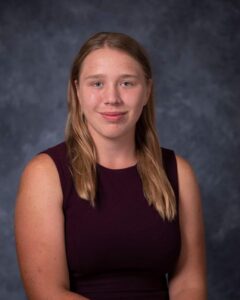 "Golf has always been a passion for me," says Erin, who topped the leaderboard at several big tournaments this year and was named the Tri-State Junior PGA 2020 Player of the Year. "I like golf because it is never the same, it's challenging, and also humbling. Golf also has taught me how to be a more adaptable person and to understand the determination that is necessary to succeed and to stay committed."
The sport also has taught Erin to always be ready for the unexpected.
"Every course is like an equation in which each player solves things differently," Erin explains. "For example, there is never one way to par or birdie a hole. One person could just hit up the fairway, chip on the green, and putt two for par. Or, someone could hit in the rough, have a tough shot, chip on, and putt one for par. Golf is a game of refinement, determination, and being able to keep trying if you do not succeed."
Positive First Impression
Tim Lang, the Foxes new head coach of the girls team who previously served as an assistant for the 2019 state champion boys team, is just getting to know his players. But it was very clear to him from the beginning that Erin, a varsity starter since she was a freshman, will be a big key to the team's success this year. Last season they were the undefeated WPIAL 3A Section 3 champions and advanced to the WPIAL playoffs, where they placed third.
"Erin is very committed to the sport," Coach Lang says. "In this short time as head coach, I can see the drive and determination she puts into every shot, every hole, and every match. She is a very talented, responsible, and kind player who is willing to assist with some of the younger players on the team."
Erin is anxious for the season to begin and has much confidence that the 2020 team has great potential, including seizing the section title with another undefeated season. She says, "I believe this year will be successful in all aspects of the game, including our determination and personal growth while we still are having fun. Mostly, I am looking forward to seeing how much the team improves and having camaraderie with my teammates."
Busy Summer Circuit Schedule 
Almost all serious high school golfers participate in tournaments in the off season and even into the fall. It often requires traveling long distances and getting on the road in the wee hours of the morning, sometimes before dawn. It's something that Erin looks forward to.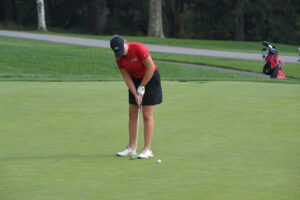 "I have never had any problem with getting up early," says Erin. "I just love getting up and going to tournaments. It's the thrill of the game, the outdoors, and the different coaches and people I have met that make it special."
This year, Erin golfed in a number of tournaments, finished first in two and in fifth-place in three others. She was fifth overall at both the Junior Top 50 National Championship held in Orlando, and at the 17th Annual Midwest Junior Championship in Michigan. Her naming as the 2020 TrI-State Junior PGA Player of the Year came as a result of multiple wins with various cubs in the Pittsburgh area. She also claimed first place at the Patty Hinkel Tournament at the Pittsburgh Field Club and placed fifth overall at the Womens Golf Association of Western Pennsylvania First President's Memorial Tournament, a two-day event that she played in about two weeks after dealing with a significant eye injury.
Practice Makes Perfect 
"I strive to be the best I can be at all times," says Erin, who golfs in some form seven days a week, and spent a good part of the summer practicing with a professional swing coach.
Erin says, "I have been working on my short game and irons. I want to have more consistency with my irons to drop a few strokes off of my game. I've also practiced multiple putting drills and all kinds of different shots using different heights and spins."
According to Erin, the most difficult part of her game is also her strongest. She drives a long golf ball – her driver carries the ball 230 yards in the air – a skill that must be practiced repeatedly using just the right amount of swing contact to keep the ball in the fairway. "It's not as easy as it sounds," she adds.
But perhaps one of the biggest and most important parts of her success comes from her mental game. She's always taken a philosophical attitude when it comes to that.
"I have always tried to look at the bright side of things and stay focused," Erin says. "I truly believe there is always a silver lining, even when things don't go your way."