Senior Justin Rice admits he is a big-time gamer in his spare time, but when he is on the field playing football for the Foxes, there's no other place he'd rather be. This season, after playing defense and backup quarterback to 2020 grad Shane Susnak, Justin is the presumptive candidate to take over the offense and become a team leader.
"I learned a lot being behind Shane for the past two years, just watching him do a great job on how to play the position the right way and just being the tremendous leader that he was," Justin says of his former teammate. "I carry a lot of that with me, and it has helped a lot so far."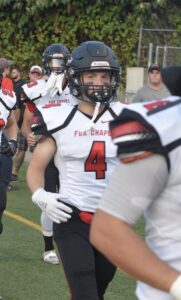 Justin is more than ready to assume those responsibilities. His flexibility as both a running and passing quarterback should also add new dimensions to the team as the playbook adjusts to his strengths as a player.
"I would categorize myself as a dual threat quarterback," says Justin. "Being smaller and quicker, I like to use my legs a lot, whether that's running the ball or avoiding defenders in the pocket. I believe I can throw a nice ball as well. I think my style of play is also having the ability to extend a play and play smart. One of the most important things for me is not turning the ball over."
He'll get some help with that from his offensive linemen. Senior Thomas Golembiewski and junior Caleb Kulikowski are returning starters, along with a good group of other experienced players. Justin also is counting on junior wide receiver Lorenzo Jenkins, who was the team's top receiver last season. Junior Zidane Thomas who came off the bench a good bit for Sam Brown last year when needed, also performed very well. Sophomore running back Khilee Patterson also showed promise and some flash as a sophomore last season.
"There is no question that our wideouts can perform well," Justin says.
Athletics Always a Passion
When Justin was younger, he played baseball and then basketball but stopped playing after his freshman year. Because baseball was his passion as a kid, he developed a strong arm, which has certainly benefited him in his role as a quarterback.
"I started football in seventh grade and I actually played slot receiver on offense, but I always had a strong arm," Justin says. "Ever since I was little, I would love to throw football with anyone, but what really got me started (with organized football) was during lunch in eighth grade when me and friends would always go outside of the front of Dorseyville Middle School and throw. Then, going into my freshman year, all my friends were telling me to play quarterback. At first, I didn't want to, but I'm glad I ended up doing it."
He is also very competitive and admits to always trying to outperform his peers in the classroom and weight room. He is one of the stronger players on the team and a member of the Fox Chapel Area High School National Honor Society. An outgoing guy, Justin also is a member of a number of clubs at school. He is an officer in the Biomedical Engineering Club and founded the Star Wars Club.
The 2020 Season
There probably isn't a student-athlete or a coach who doesn't wonder about the upcoming fall season and what will happen. But Justin says shutting out the noise and focusing is the biggest thing the team needs to do amid the uncertain environment.
"If we focus and execute our game plan on a week-to-week basis, we have the ability to get back to the playoffs," he says. "We had a great senior class last year, and a lot of what they implemented culture-wise was great. I believe the senior class this year can do the same. We have a lot of high character guys coming back who know how to make football worth the experience, know when to have fun, when to be serious, and when to work."
He adds, "I'm a big believer in if you don't set goals for yourself, or ever imagine yourself getting to your goal, you're never going to get to taste what success is like," Justin says. "It's like what Coach Loughran always says, 'We're giving you the answers to the test, you just have to go out and do it."
The Foxes season will begin Friday, September 11 in an away game against new section opponent Pine-Richland High School.