Not only did sophomore Nina Busch earn an individual WPIAL Class AAA silver medal on October 2, but she also did it in thrilling fashion. Both Nina and the eventual gold medalist, Isabella Walter from North Allegheny, shot 76s. The winner was determined in a playoff when Nina's opponent and good friend won the tiebreaker. Still, it was a great day for a young golfer who played the best game of her life – so far.
Also competing at the championship was Nina's talented sophomore teammate, Erin Drahnak, who qualified for the next round of the playoffs as the alternate after a playoff among four girls. Coach John Broderick said the two athletes are some of the best golfers the p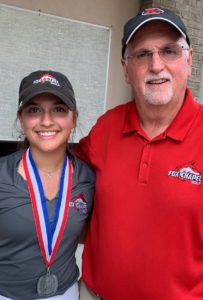 rogram has had in a very long time.
"They both played in very intense high-level tournaments over the summer that separate them from many other golfers," the coach says.
Both Nina and Erin also were decisive factors in the Lady Foxes' perfect season. They finished 15-0 overall and 10-0 in WPIAL Class AAA Section 4. It was the first time since 2010 that the program won a section title.
The next round on the road to the PIAA individual tournament will be held at Tom's Run Golf Course in Blairsville, Pennsylvania, where the individual PIAA Western Regionals will be held Oct. 15.
It's a Process
Throughout the tournament, Nina says she had no idea of where she stood on the leaderboard and purposely didn't want to know.
"I felt from the way I was playing that I would medal, and I was really proud of how I played, but I didn't know exactly where I placed until I finished," says Nina, who first started to play when she was five-years-old and, at the age of 12, began to play competitively.
Getting to this point in her golf career didn't always come easy though, or without some exasperation. Nina explains, "Over the summer I went through some big changes in my swing. But things weren't going the way I wanted them to. It was as if I was going two steps backward and it was really frustrating when it wasn't paying off, even with a lot of practice."
It was then that she started to focus more on the mental aspect of the sport, something she really hadn't done in the past. "I learned that I just have to stay level when things aren't going so well, and that golf is a 50-50 sport – half mental and half skill."
Somewhere along the line, Nina's hard work began to pay off.
"I think Nina's strength on the course is driving the ball," says Coach Broderick. "Her drive is just unbelievable, and I've never seen her hit as well as she is now. She has taken her game to another level."
While Nina prepares for the individual WPIAL Class AAAA Western Region championship, the team is also getting ready for what they hope will be a long run in the postseason.
"Focus is huge," Nina says. "At times we all get in over our heads, and we just have to know that if you make a bad shot, it's not the end of the world and there's time to make up for it. But all of the girls on our team are so supportive of each other and Emily (Scheffler), our captain, has been a great leader and helped us so much.