Kellee Cribby spent the past four years as a head coach and then, for one year, as director of development for Pittsburgh Youth Lacrosse (PYLAX). Luckily for the Foxes, she now brings her stellar credentials to the girls lacrosse team as its new head coach.
"The best part of my day is when I get to the field," says the coach. "This team is filled with fierce competitors and is definitely a group that loves lacrosse and has a passion for it. I was very excited to see that."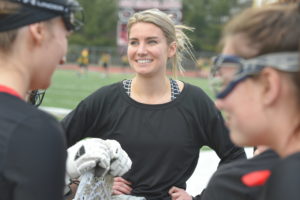 Coaching Fulfills Love of Sports
The opportunity to coach was something Coach Cribby had always wanted to do after completing her own illustrious career at Allegheny College in Meadville, PA. There, the economics major from York, Maine, was a ruthless, highly competitive defender. She was selected to the All-NCAC second team, was a captain in her junior and senior years, and elected a co-captain as a sophomore. After she graduated, she greatly missed being on the field and as part of a team, so she decided to try coaching. Her first experience stepping into that role was as an assistant coach at Baldwin Wallace University, in Ohio.
After serving in various roles out-of-state for a few years, Coach Cribby began to miss the friendships she had made in college and the sense of community she experienced there. She took a leap of faith and moved from Ohio to Pittsburgh, found a professional position at Dick's Sporting Goods in e-commerce, and started coaching at PYLAX. But coaching at the high school level was something she knew she would really enjoy.
"When I first watched this team, I was so glad to see that the girls are a great bunch of players who are passionate about lacrosse," says the coach. "Plus, being a part of the Fox Chapel Area community has been a very positive experience. After a long day at work, it really makes my day to come to practice!"
Because of her local connections, Coach Cribby came to her position with a decided advantage.
"My first year at PYLAX, I had six of the eight current seniors," she says. "It's been so fun to see how much they have improved and grown as players."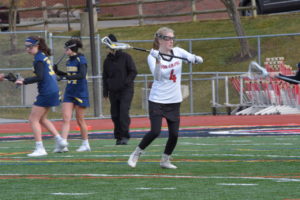 Players Respond Well to Change
Two of those players, Mary Ellis, a University of Maryland-Baltimore County, Baltimore and Sloan Rost, who currently has more than 100 career goals, both had very positive experiences with Coach Cubby when they were younger. Now, they are excited about what she brings to the high school program.
Mary, an attacker who broke the school record for career assists during the 2019 season and scored 93 goals, says,  "It's always hard to adjust to a new coach, but I love Coach Cribby. She has had us do a lot of running, but we're now in better shape than most teams. She likes to get the job done, and I respect that. I think the overall attitude that she brings to our team has made it super easy for us to adjust. One of the things I like best about her is that she looks at each person individually to determine what they need to thrive."
Sloan will be playing in the midfield and on offense as an attacker. She says Coach Cribby brings a "work hard, play hard" mentality, which she believes is very useful. She adds, "We train and condition a lot during practice, but we also have lots of laughs and we know how to motivate each other to work hard."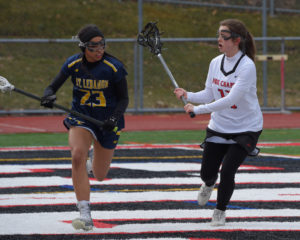 Seniors Emily Scheffler and Lizzy Giuffre also return with good field and leadership experience, although the coaching staff looks forward to good contributions from all of the seniors, including Devon Clark (attack) and Bryn Gerlach (defense). Although Brooke Clark (attack) and Caroline Redican (midfield) are currently out with injuries, Coach Cribby expects them to be great leaders from the sidelines while they recover.
Emily plays midfield and as an attacker, but says, "It doesn't matter to me where I play; I love both positions. However, I do like it when I can feed the ball to my teammates who are great goal scorers. I think this year's team is very resilient, talented, and hardworking and I believe we should have a strong team this year. Despite losing 10 seniors, we have a lot of great players who will fill in."
"We have a lot of talent, and right now, I like the way the whole team is moving together," Coach Cribby says. "Their work ethic is great, and they know how to lift each other up when necessary. Right now, I just want to continue to build and improve upon the program's past success."