The first thing you notice when speaking with new Lady Foxes' head basketball coach Marty Matvey is that he's a real go-getter. His positivity, energy, and enthusiasm are contagious, and he has some big ideas for the program, including filling the stands with more cheering fans.
He's also intent on wreaking a lot of havoc on the court – havoc as in the traditional definition of the word, but also HAVOC, a type of defense in which full-court pressure is designed to disrupt the opponent's offense, cause turnovers, and force a feverish tempo. It is something he used successfully in his previous five-year tenure at South Park High School, where he started as an assistant for the girls team and then transitioned to head coach. HAVOC was key for his teams to reach the WPIAL playoffs five years in a row and the PIAA playoffs four out of five years.  Additionally, they reached the WPIAL semifinals twice in two of his three years as head coach, advanced to the state finals once, and won two section titles.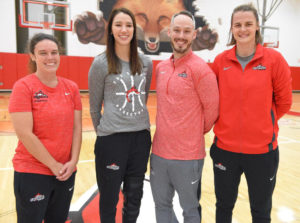 Since he started with the Foxes in May, Coach Matvey and his staff have been busy holding open gyms, conducting skills clinics for youth, and dedicating their time to doing what they feel will continue to build upon the success the team enjoyed last year. In the 2018-2019 season, the team advanced to the WPIAL and PIAA playoffs, something Coach Matvey says is the standard he has for this year and the ensuing ones. He also wants to create a supportive, caring team culture in which risk-taking is encouraged to build court confidence. Toward that end, the coach and his assistants – Britta Emberg, Kelly Gibson, and former Foxes' star Jenny Papich – have been getting to know the players on and off the court, something they believe is essential for success. They have even attended some of the multi-sport players' soccer, field hockey, and volleyball games.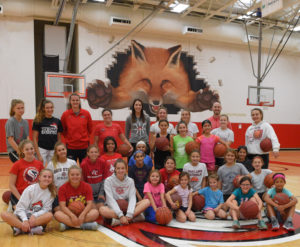 Coach Matvey, who got his start in coaching under the direction of Susie McConnell-Serio at Duquesne University, and later was on the staffs at Robert Morris and Chatham universities' teams, adds, "We are very genuine about investing our time and presence in these young ladies' lives. We're not here just to play basketball; it is an opportunity for us to contribute to their growth as young women and student-athletes."
The growth he is looking for also comes in the form of building players' confidence in several ways, including helping them to understand the game and getting them to participate in the school's strength and conditioning program, which the majority of the team has done.
"Physicality is the most important ingredient to run HAVOC," says the coach. "It's a demanding defense that also requires a relentless mindset and grit. Those are areas we are working on with these young ladies. We want them not to be afraid of making mistakes or afraid of trying something new. Most of all, we want them to know we will always support them if their efforts and intentions are for the good of the team, no matter what the result."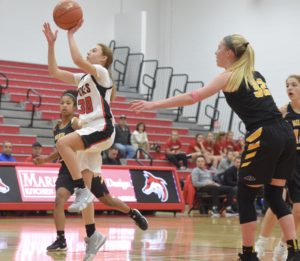 First Impressions
So far, the coach is pleased with the depth and talent of the 2019-2020 team. He explains, "We will have 13 returning players, and it's a very well-balanced team with decent size. We will be relying on the seniors – Claire Fenton, Gabby Guerrieri and Kyrie Nestel – to provide leadership. Gabby and Claire, along with junior Domenica Delaney, will also be counted on to help with ball handling and putting their teammates in positions to knock down shots. We also have a large and talented junior class that we believe will continue to grow as leaders and players this year, along with several talented underclassmen."
In addition to Domenica, the juniors include Sammi Dunlap, Ally Hager, Madyson Kondel, Marissa Ritter, and Ellie Schwartzman.  The final roster will be set after tryouts November 18.
According to 32-year-old Coach Matvey, Ellie is a unique talent and is only starting to recognize her potential. The team also has a bounty of other capable players, including Gabby, Claire, Kyrie, Domenica, Marissa, Sammi, Madyson, and freshman Elsie Smith, all of whom can knock down shots and get to the rim.
Two of Coach Matvey's biggest jobs, however, may be to get the girls to toughen up and believe in themselves.
"We're all really excited to get the season started," he says. "They are better than they think they are."