When Charlotte James first started playing tennis when she was about 6 or 7 years old, her parents' goal was for her to learn the sport, but above all else, they wanted her to have fun doing it. Their outlook never changed, even when she started to play competitively at age 14. Today, Charlotte's love for the game and hard work have led her to play at the highest levels of competition and earned her some impressive accolades along the way. On Nov. 2, in Hershey, just a week after leading her team to win the PIAA Class 3A team championship, Charlotte earned the PIAA singles runner-up title. She is now the top-ranked female senior singles player in PIAA competition.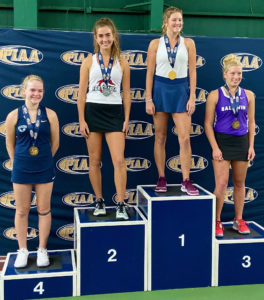 A Return to the Podium
Being on the state podium is nothing new to Charlotte. When she was a freshman and sophomore, she and Amanda Nord won the PIAA doubles championship. This was her first time going it alone, however. Although she was disappointed that she came up short when playing Amelia Honer of Council Rock North, she knew going in what a good player Amelia was.
Graceful in defeat, Charlotte says, "We're actually good friends. A couple of years ago, we played doubles together in a couple of tournaments, and we warmed up together in the days before states. She's a great player, played excellently, and deserved to win. It would have been nice to win a state singles title, but I'm really happy with this season and how I played this year."
"Charlotte had a fantastic showing, taking care of matches she was supposed to win, and was professional in her preparation for them," says Coach Alex Slezak. "She is a tremendous competitor and does not like to lose. Although she came up short against Amelia, she has nothing to be ashamed of. She gave it her all, and when you do that, even in losing, you grow and move forward. For that, I am tremendously proud of her."
And, what a year she had. She breezed through the regular season with just one loss, and then evened the score when she beat that same girl at the WPIAL Class 3A playoffs. She plowed through that tournament to become the first female singles tennis player in school history to win the singles championship.
"I have to thank Coach Slezak, who has been amazing the whole time," adds Charlotte. "He's so experienced and has seen so much. He's been a very calming presence and has helped me to work through many things, especially with my mental game."
Charlotte definitely is not done yet. She is very close to making a decision about where she will attend college and continue her tennis career. She intends to commit during the early signing period this month.
"I'm happy with how I started to compete a little later than some girls, because I'm not burned out at all," she says. "I'm excited about college and feel it will be an awesome experience."