Girls volleyball middle hitters Vanessa Perez Milano and Emma DiRocco are not only imposing figures on the court because of their height, but they also are two big reasons why the team has enjoyed more success this season. While the squad is still a work in progress, the junior and sophomore, respectively, are adding to that evolution as two of the group's most versatile weapons. 
"Vanessa and Emma are valued assets on our team," coach Diana Andreyko says. "Their presence in the front row, both offensively and defensively, is a force to be reckoned with. Their skills certainly are recognized, not only on our team but also in our section."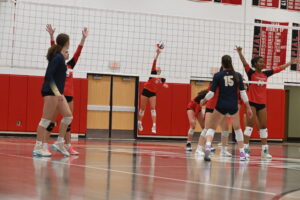 For their contributions, both Vanessa and Emma have been named WPIAL Class 4A players of the week by the Trib HSSN this season.
Five-foot-11-inch sophomore Emma was inspired to play the sport by her father, a lifetime beach volleyball player who she says has helped her become the player she is today.
"I know I have a huge responsibility on the court with blocking, transitioning, hitting, and serving," says Emma, the team's only player to earn all-section honors last season as a freshman. "I think middles get the most action on the court because they have to be good at every skill in volleyball. Also, I think to be a good middle hitter you have to be very fast and efficient with blocking, because sometimes you have to sprint back and forth without leaving a hole in the block. 
"Hitting is a middle's main priority because you must run a faster offense than the rest of the players. Serving is a big responsibility for me because creating a strong consistent serve is key to winning the game. Lastly, passing is probably the least of a middle's worries because I only play back row whenever I serve and then I am subbed out."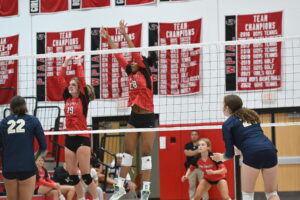 Vanessa, 5'9", also defines the talents necessary for her role on the team. 
"One of the most important skills at my position could be the timing and positioning of the block," she says. "Without the block, I think it would be very difficult for defenders to receive a ball when there is so much court to cover."
Vanessa started playing when she was in middle school.
"I did have a couple of friends who suggested I should try it out, and I did," says Vanessa, who has a reputation as a player who is very adaptable to change. "Now, what keeps me playing volleyball to this day is the people in it. Volleyball also provides a space for me where I can forget about some possible worries I might have outside of playing."
She describes what she means by adaptable: "By that, I mean if one day a skill is not really working out for me or against the team we are playing, I will try my best to find other ways to score or benefit the team." 
For several years, both players have advanced their skills by playing on elite club volleyball teams, but the middle hitters say the extra time spent with their Foxes teammates over the summer was the most rewarding and fun.
"I feel closer to my teammates than ever before, and I love being around all the positive energy everyone gives off," says Emma, known for her hitting, serving, and blocking. "Our record this year has also improved compared to the years before, and I love playing because of the people who I get to spend time with."
Vanessa adds, "I think the time that we spent together learning a bit more about each other's strengths and weaknesses made us closer as a team and taught us to improve by listening to each other's advice."
Simple as they may sound, yet sometimes harder to employ, those skills have continued to be applied throughout the season and have added much to a program that was yearning for a positive identity.