Fox Chapel Area junior Alyssa Quackenbush, a three-year starter on the girls soccer team, remembers well what it was like to be a freshman playing varsity soccer, and, at times, it was daunting. She was competing against girls who were sometimes four years older, stronger than her, and had a lot more experience. She was also afraid of letting the upperclassmen down. It's one reason why Alyssa and other juniors and seniors on the team have made sure to forge strong relationships with the younger players, especially four freshmen who play side-by-side with them in starting positions – Emily McKee, Antonia Linzoain, Caylie Wilkinson, and Taylor Wilkinson.  
"Every team we play never has a single freshman on varsity, let alone three to four starting like us," says second-year head coach Carlo Prati. "Our upperclassmen have done a great job of mentoring the younger girls to help them build confidence. These freshmen have done an amazing job of overcoming some of those challenges. 
"From the time they were in middle school, they really stood out to me because of how calm they were on the ball. They always find a way out of a situation and are extremely aggressive. They have a great awareness of where they should be on the field. They have handled the pressure really, well and I am extremely proud of what they are doing."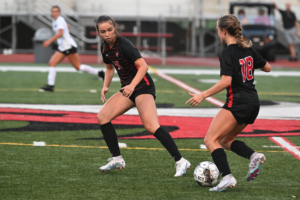 Left winger Alyssa adds to her coach's thoughts, saying, "I think that not making playoffs last year changed everyone's mindset of which players should be on the field. Last year, some players thought that just because someone is older means that they are better. This is not always the case, especially this year since we have a good number of freshmen starting or getting varsity minutes." 
Striker Emily has proven she deserves her starting role. While she has a lot of firepower – and a number of goals and assists to go with it – she admits there was a learning curve.  
"It was hard stepping into a varsity role when everyone on the team has played with each other for years, plus each team we play is a new competitor that I had never played before. I can be playing against a captain (of a team) who is a 6-foot defender, and the center backs are always tall and strong players. (As a striker), I can try and use my speed, which has always been an asset of mine, but you have to outsmart the older, bigger, stronger players."  
In the backfield, one of the most effective duos this season is senior Anna Troutman and freshman Caylie. 
"Playing with the younger girls has taught me a lot," Anna says. "It adds a whole new layer to my high school soccer experience. I remember how much I looked up to the older girls when I was a freshman, and I hope I can be the same to them."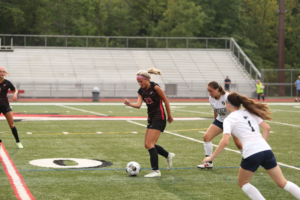 She says it didn't take much mentoring on her part to bring Caylie up to speed. 
"She came in as a very strong and talented player already," Anna says. "I think it took us a couple of games to learn each other's playing style, but now we have it down. We know when to cover each other, and I trust her completely."
"All of the seniors have been so great in helping us transition to this level, and they have welcomed us to the team from the beginning," Caylie says. "I feel so lucky to have had a season with Anna as the other center back and (senior) Sydney Schutzman as the defensive center midfielder. I have learned so much from them, and we have really learned to work together as a team in the back." 
Something Caylie learned early on was the need for increased physicality and speed that are required at the varsity level. 
"With being a freshman, I have had to defend girls who are older and more experienced," says Caylie, whose twin sister is Taylor, also a varsity starter.  "I am fortunate to have three great coaches and teammates who have helped me rise to the challenge and really grow as a player. One of the most difficult but most rewarding parts of starting as a freshman is that I have to constantly challenge myself to keep up with the talent on this team." 
Coach Prati also has plenty of praise for Taylor.
"She has played both as a winger for us and as a midfielder," he says. "She brings a lot of energy to the team. She is quick, skillful on the ball, and never backs down from a challenge." 
He also gives high marks to Antonia, saying, "Antonia has started in almost every game for us as a holding mid. I can still remember watching a middle school game last year, and she was one of the girls who really impressed me with how calm she was on the ball. She is super intelligent with the ball at her feet and has great vision." 
The second-year coach adds, "The entire team has really gelled. I've been extremely happy with their work rate and attitudes this season. They are starting to click at the right time."