It's a little more than a week before the boys basketball team's first home regular-season game, and the practices are a grind. It's the toughest part of the season as far as conditioning and preparation as the games near, but this isn't Coach Zach Skrinjar's first rodeo. He's been doing this with Foxes' teams for 13 years now, and he knows what he's doing. Best of all, his players bought into the program long ago, many of them since they were freshmen, and their leadership is driving their own high expectations for what they are determined to achieve this year.
"Preparing for the season is always hard, but it will pay off," says the coach. "I'm comfortable where we're at now, and we're on the timeline we need to be on, but where we are in December is not our expectation for where we want to be in March."
"This part is definitely pretty tough because of conditioning, as well as the three-hour practices, but it's completely necessary if we want to be the best team we can be," says Eli Yofan, who scored his 1,000th career point last season and collected a slew of awards, including being named the Pittsburgh Post-Gazette WPIAL Class 6A player of the year and to the P-G Fab Five; to the first team All-WPIAL; and to the PIAA Class 6A all-state third team.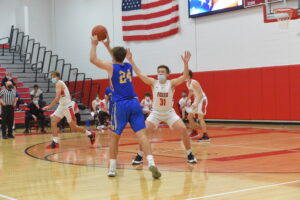 "This group of players is just good at every position," says Coach Skrinjar. "It's the most complete roster we've ever had on two ends, and all of them are big, strong, fast, athletic kids. That gives us a lot of options for the year. It's not like we'll have to sub out because this one can't defend, or another one can't shoot as well. We have a gifted offense, everyone is a pretty good passer, and there's just a lot of talent in this group."
That ensemble includes seniors Jake DeMotte, who played football in the offseason and helped the program win its first playoff game in nearly 25 years; soccer player JP Dockey, who competed in the WPIAL 4A playoffs with his team; and Eli Yofan, a member of the Foxes golf team that was the PIAA runner up this year. Eli also was the WPIAL Class 3A individual runner-up. All three players earned postseason honors.
Russell Fenton solely focuses on basketball.
Other returners who will be counted on to contribute points include juniors Kam Greil and Erik Wilson. Kam is probably the leading candidate to fill in the open fifth position left by 2021 graduate Kent Baldauf, and Erik will get a lot of minutes on the court too.
A surprise to the team this season is senior Colin Kwiatkowski, a second team all-conference Foxes football player. He played basketball in 10th grade and decided to rejoin the team because he has a real love for the game.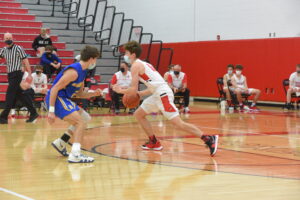 "When a 6'5" kid walks in your gym, and a 6'5" kid is kind of what you need, physically, that gives us options," says Coach Skrinjar. "Thus far, Colin has done what we expected and is improving every day. He's been a positive influence and we've been very impressed with him, in fact, he's probably exceeded our expectations so far."
Sophomore Jefferson Moorefield-Brown has also been a welcome addition and will add energy to the mix.  He didn't play basketball as a freshman, but some people got a look at him during fall league ball. He's athletic, can score, and is getting accustomed to playing at the varsity level.
"Everyone is pretty much going to have the same role at last year," Coach Skrinjar says. "Russ probably will move around the perimeter more, and that's something we're working on, but nothing is going to be a big adjustment for anyone."
Russell replies, "I'm excited about the opportunity to play on the perimeter more this season. When Coach Skrinjar asked me to play inside last year, I was happy to do it because that's what was best for the team. However, before last season, I had always been a perimeter player, and that's really where my comfort zone lies. I think that having me step out makes us a much more difficult team to guard and might allow me to make some plays that I didn't have the opportunity to make last year."
So far, it's been pretty much a seamless transition from season to season. "We just have kids who have fit right into the team concept and complemented the other guys," adds Coach Skrinjar. "They have assimilated into our system and thus far have produced for us in practice."'