They have the talent, they have the experience, and, collectively, they are some of the most athletic players Foxes boys basketball coach Zach Skrinjar has coached in his 13 years with the team. With those attributes checked off, what the coach is focusing on more than ever is, well, "focus." It's something he believes will be the key to finally bringing home the WPIAL Class 6A gold medal.
"Every practice, every game, every article that's written about us, I'm always going to go back to 'focus' and why it's so important if we are going to win a WPIAL title," says the coach. He has even assigned meaning to each letter in the word that is prominently displayed on their T-shirts – the "F" and "C" stand for Fox Chapel and the logo, "O" is the shape of a basketball, and the "US" in white is for team unity. Altogether, the message is FOCUS.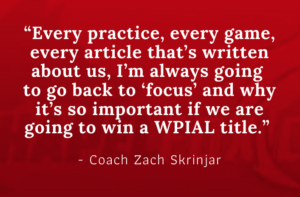 For the reigning WPIAL Class 6A Section 3 champions, focus is something they all agree is necessary to take that leap to elite status. The Foxes have returned four starters in seniors Jake DeMotte, JP Dockey, Russell Fenton, and Eli Yofan. Coach Skrinjar anticipates that junior guard Kam Greil will step into the starting lineup this year. Two other players, 6'5" senior center Colin Kwiatkowski, and sophomore guard Jefferson Moorefield-Brown, will add even more depth and provide great options for varying lineups and positions.
But going back to focus, several of the seniors had some thoughts on exactly what that means in terms of their own individual efforts, and as a group.
"I think for the team, it means staying 'locked in' at every film session, practice, or game, with the intention to get better as a team and players," guard Jake DeMotte says. "If we come into games and play hard with energy, not many teams are going to beat us. For me, personally, focus means getting better with every drill I do every practice, with the intent to get better as a player and work on my personal weaknesses."
Adds point guard JP Dockey: "I think the theme focus is used for this year because if we stay focused, we should accomplish the goal we have always had of winning a WPIAL championship. Every day we need to focus on getting better and prepare for each game, one at a time. Personally, I know my role on the team is to lead, facilitate, defend, and score, so I must focus on those strengths. When Fox Chapel was ranked first in the state (in 2019-2020), it was easy for us to get caught up in the rankings and lose focus. But then sticking to our game plan and emphasizing a team mentality allowed us to have a successful season."
"Focus just means to do everything with a purpose and making sure that whatever you're doing is the center of your attention," guard Eli Yofan says. When it comes to a team thing, to me, focus means that whatever we're doing, we all must be concentrated on that certain thing, so we all have the right mindset. Individually, focus means that whatever I am doing, I have to be concerned with that so I can do my job to help my team can succeed."
Join the Foxes as they begin their quest for gold at the December 14 home opener versus Shaler Area, which begins at 7 p.m. Senior night also will be celebrated that evening.