Ever since Kaylee Uribe was a little girl, she dreamed about being a great soccer player. Pursuing that goal was a huge part of her life, and she worked diligently to develop her technical skills and fitness level. When she got to Fox Chapel Area High School, everything started to fall into place. The forward-turned-midfielder was designated as a varsity starter as a freshman, and a highlight of her career was in her sophomore year when she scored the game-winning goal in the Foxes' WPIAL Class 4A first-round playoff game.
Then, however, during her junior year, she suffered an ankle injury that kept her out for half of the season. The final blow occurred in the summer before her senior year. While playing in a college recruitment showcase tournament, Kaylee thought she had pulled a back muscle while playing on a very muddy field but stayed in the game. The injury ended up being much worse than she expected: She had a herniated disc and a prognosis that ended her high school career.
"It was a shock and a big mental mind trip," Kaylee says. "Obviously, I was very disappointed because I had wanted to commit to a college before my senior year. As much as it was a physical injury, it was definitely difficult and hard emotionally. The combination of both injuries left me feeling lost. Besides just playing, I loved the team involvement, having one common goal, and the team bonding is great. But I think it was the mental strength I had developed through soccer that ended up helping me."
When Kaylee did find something to fill the time she had previously spent on soccer, she found an unexpected outlet that kept her involved with the game, only from a different vantage point.
New Passion
Kaylee's aha moment came about in a nonchalant manner when she discovered her sister's idle camera. Right then and there, she decided to learn more about photography. She started off slowly by asking a friend who knew a lot about photography, and the more she learned, the more she wanted to continue learning. Kaylee put out the word among her friends that she was looking for models, and that was the start of her taking portraits. Then, as the soccer season got underway in the fall of 2021, she began to understand that there are many ways to take shots. Only this time, it was with a camera, not a ball.
Sports photography wasn't anything she had ever really thought about, so she asked longtime Foxes athletics photographer Gordon Snyder for more advice.
"Gordon taught me different 'tricks,' how to use filters in different settings, and just more about sports photography in general," says Kaylee, who has since worked with Fox Chapel Area High School media production teacher Ryan Devlin to hone her skills in videography and editing. "I definitely thank Gordon for helping me out in the beginning, because without him, I don't think I would have done it."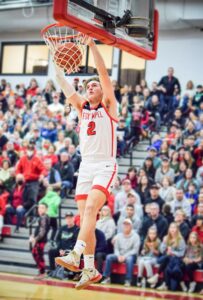 There were times that shooting pictures was difficult, however, because what Kaylee really wanted to do was be on the field playing. Still, the sideline work was a way for her to maintain her soccer friendships and stay involved.
"As cool as it is to score a goal in the WPIAL playoffs, what's awesome with being able to take photos is that I am still contributing to the team in some way," Kaylee says. "When you are playing, it's your own perspective and feelings about what is going on. But from the sidelines, I can see the entire field and capture the emotions of all players. It's awesome to be able to photograph everyone's excitement and expressions."
Her work was impressive, and the team began using her photos with game-day announcements that were posted to social media accounts. She didn't know it, but that was only the beginning of what has turned into not only a new passion, but also a nice cottage industry that extended to the winter and spring sports seasons, as well.
Kaylee covered a large wrestling tournament sponsored by the high school, and then, under the direction of Mr. Snyder once again, she started shooting photographs and videos at boys basketball games. As the team approached the WPIAL and PIAA playoffs, the number of followers on Kaylee's website and social platforms exploded, something that amazed her. One thrill of her winter was being awarded a courtside press pass at the WPIAL Class 6A championship game at the Peterson Events Center on the University of Pittsburgh campus, which the underdog Foxes won. Kaylee has added boys volleyball, baseball, track and field, and Unified Track and Field to her spring sports coverage.
Focused on the Future
Now that Kaylee has found a new passion that keeps her involved in sports and expands her identity beyond being an athlete, she says that getting to this point not only took tenacity on her own part but the support of others, including her family and friends.
"Just getting it out and being heard helped me to overcome my injury, and knowing that I was supported helped me to overcome my injury," Kaylee says.  I think teens need to get over the fear of being judged by reaching out to peers, family, and teachers when they are stressed. There is always support if you look for it."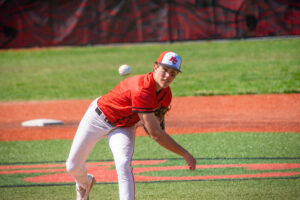 Another outlet Kaylee aligned with is a teen mental health advocacy series hosted by the Pennsylvania Youth Advocacy Network.
"The biggest thing we do is come up with projects that allow teens and others to have easy access to mental health resources without any fear of reaching out," says Kaylee. "The fear is that we don't know who to trust and who will not judge us," says Kaylee. "Our meetings are virtual because the participants are from all over the state. Some of the personal stories I've heard really hit home for me, and I was surprised how common some of these mental health issues are today."
In addition to her new hobby, Kaylee also has something bigger and better to celebrate. The National Honor Society member, who holds down a loaded schedule filled with Advanced Placement (AP) courses, was recently notified that she was selected as one of only 12 recipients to receive a University of Pittsburgh Honors College Chancellor's Scholar Award. Each year, thousands of high school seniors apply for the competitive scholarship, which covers all four years of undergraduate study and room and board costs.
Kaylee plans to major in bioengineering, and because she wants to continue to be involved in athletics in some way, would like to eventually pursue a career as a sports medicine physician. Based on her work ethic, mental toughness, and ability to overcome obstacles, someday Kaylee might even be back on the sidelines at Foxes athletic events in yet another role: doctor.
---
Kaylee's photography and videography can be viewed at kayleeuribe.smugmug.com.
If you or a teenager you know needs mental health support, visit the Pennsylvania Youth Advocacy Network at https://www.payouthadvocacy.org/.