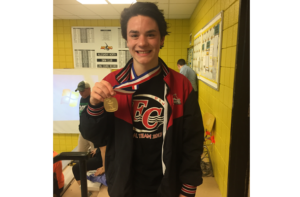 Sophomore standout diver Jonah Cagley is a kid who always has a smile on his face. Now he has even more reason to grin: he just became the first-ever diver from Fox Chapel Area High School to win the WPIAL AAA diving championship. His score of 525.20 points quite literally blew the competition out of the water.
The silver medalist, Mt. Lebanon's Owen Johns, scored 494.90 points, followed by third-place finisher Austin Shaw from Pine-Richland, who earned 467.40 points.
Going into the finals, Jonah already had a 30-point lead. By the time he finished his last dive – a difficult front 1½ somersault with two twists – and added over 143 more points, Jonah said he finally let his scores sink in and thought, "I think I won; I think I did it!"
It was a finish Jonah had dreamed about since last year when, as a freshman, he won the WPIAL AAA silver medal and advanced to the PIAA diving championship.
"After the state meet last year, I went back and trained even harder," says the 'A' student who also trains at Pitt four-to-five times a week with leading diving specialists Doe and Julian Krug. "I knew I could do better and had a lot of determination. If I set a goal, I do everything in my power to reach that goal. So, over the summer, I learned new dives and perfected the old ones. I was motivated to do more conditioning and do skill-based activities that would engage my core and legs to get stronger. I also wanted to get a better mindset going into big meets."
Mission accomplished.
Follow-the-Leader
Jonah's path to becoming the best diver in the region began when he was only three-years old, but there were some detours along the way.
It began when the Cagley family moved here from San Antonio, Texas, and his parents were looking for activities for Jonah, his two older siblings, Noah and Camille, and baby brother Micah.
"Everyone told them, 'you have to get them into swimming; it's a really good program,'" he says.
They joined the Community Swim Club in O'Hara Township so the family could enjoy the pool, and signed up the older two children for swim lessons. It was an organic and easy decision for Jonah and Micah to follow suit. When they were old enough, they boys joined Noah and Camille on the club's swim team.
"I swam from kindergarten to fifth grade, but didn't really like it," he recalls. "It was too repetitive and not very fun. I never considered diving because it looked too dangerous and I was afraid I'd hit my head on the board!"
Instead, he did gymnastics for two years.
Then, a visit to Pitt to watch a friend dive suddenly changed his mind about the sport and, subsequently, the course of his life thereafter. In the summer after seventh grade, he joined the Pitt Aquatics Club. His background in gymnastics helped immensely in perfecting his flips and somersaults from the diving board.
"They moved me up pretty quickly into the scholastic group and then to the competitive team, where I dived more and really started to like it a lot," says Jonah, who, at a young age, already showed signs of steely determination.
A Quick Study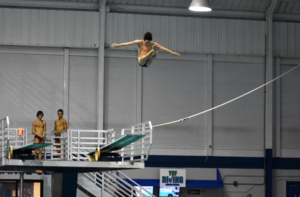 Since that time less than three years ago, Jonah has become a fast-rising star. A natural athlete, this past summer, he placed second in the 16- to 18-year old boys' division at the Amateur Athletic Union (AAU) national diving competition. At home this season, he broke JB Kolod's school diving record. JB had been the school's most prolific diver before Jonah, and had gone on to become a record-setter at the University of Virginia and an Olympic trials qualifier. High school coach Vernon Yenick goes so far as saying Jonah is at least equal to or even better than JB was at the same age.
"The experience at the AAU championships gave me a lot of confidence," says Jonah, who counts cliff diving among his accomplishments. "Before that, sometimes I would freak out before big meets. But I just started thinking that the big meets are just like smaller meets, only with more people, and I should start treating them like smaller meets. It really helped with my mindset."
Jonah's eagerness to improve and his attitude have also made him a very coachable athlete.
"After you instruct him, Jonah is pretty much able to make an immediate change or adjustment," marvels Coach Yenick, "Just recently when practicing for WPIALs, I noticed he was getting a little twist on his dives before entering the water. I pointed it out to him and he fixed it right away. He is very talented in that realm."
Jonah also took to heart Coach Yenick's instructions for the WPIAL qualifiers' warm-ups a couple of days before the championship.
"I always joke, 'Don't win the warm-ups,'" says Coach Yenick. "I just want them to go to the location, see what the board is like, and have them get a feel for it. Jonah's performance at the warm-up wasn't as good as usual, but he really turned it on for the meet. He did exactly what I wanted."
Despite his early success, Coach Yenick says Jonah hasn't let it go to his head. He still went to practice at Pitt the day after he won the title, and even on days when he's acting just like a regular kid and doesn't want to go to practice, he does.
"I just push myself to go because it's one more day that I can work hard and get better," he says. "Taking off time doesn't help you to do that."
"Jonah is not ostentatious," comments Coach Yenick. "He's a determined hard worker who is a very powerful diver and has a great high jumping forward approach called a hop hurdle. He knows how to handle pressure, and as a diver, you have to be a performer. He definitely is a performer."
The coach has even higher praise for his star diver as he confidently adds, "Jonah is the future of Pennsylvania diving."