The Fox Chapel Area High School Girls' Fencing Team won first place at the recent Pittsburgh Interscholastic Fencing Association (PIFA) championships, earning them recognition as the best team in that category in the region. The PIFA event is the largest high school tournament in the area.
The victory on March 2, 2018, came after the Fox Chapel Area girls defeated favorite Allderdice High School, 5-3. The team then went on to beat host Oakland Catholic High School in the final round, 5-4.
Going into the tournament, the girls had been ranked fourth.
The winning Foxes' team consisted of senior Bridget Wang, junior Katie Palumbo, and sophomores Hanna Chen and Serena Fisher.
The other members of the girls' team are sophomore Christiana Paljug and freshmen Suparna Agrawal, Ilhaam Husain, and Emily Li.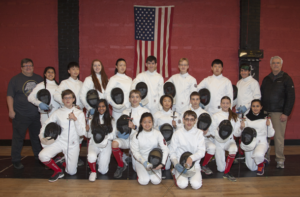 The boys' team advanced to the PIFA semifinals before losing to Allderdice, 5-0.
The boys who competed at the championships were senior Nathan VanDemark, sophomore Keith Haw, and freshman Dong Hyun "Simon" Shin.
Additional team members are senior Tao Sheng; junior Ryan Setzenfand; sophomore Jonathan Rodrigues; and freshmen Ryan Doherty, John Polcyn, and Ben Rickin-Marks.
"The team members work very well together and provided a lot of support for each other all season during practices and at competitions," says coach Mark Hirsch. "Although we will lose some team members to graduation, both teams are now more experienced and we should be well prepared for next year."
Besides Fox Chapel Area, the high schools that participate in PIFA are Allderdice, Aquinas Academy, Bethel Park, Central Catholic, Mt. Lebanon, Oakland Catholic, Peters Township, Pine-Richland, Seton LaSalle, and Winchester Thurston.