The Lady Foxes will compete in WPIAL Class 5A Section 2 this season. It's a big change from the past when they were in 6A and competed against perennial powerhouses such as North Allegheny, Bethel Park, and Norwin high schools, but 5A also is filled with plenty of talent. The teams that comprise the Foxes new section include Armstrong, Hampton, Indiana Area, Kiski Area, Mars Area, and Plum, all of whom could give the Lady Foxes a tough time.
Leading the way for Fox Chapel Area are six seniors – returning starters Domenica Delaney (guard), Marissa Ritter (guard), and Ellie Schwartzman (forward), along with solid contributors Sammi Dunlap (guard), Ally Hager (forward), and Madyson Kondel (forward). Their coach, Marty Matvey, who is entering his second year at the helm, says, "They are just a great group that complement each other so well. I wish I had a couple more years with them (before they graduate), but I'm just going to cherish this year and rely on them to help us shoot for the section championship."
The seniors were asked some questions about the team, the season, and their expectations.
What is your assessment of this year's team so far?
Ally: I believe that we will be better than last year since it is our second year with this coaching staff and the team has created good chemistry with one another.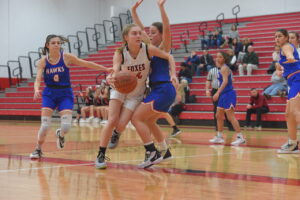 Ellie: Our greatest strengths are that we have a team that is determined, eager, and meshes really well together. We have a deep bench and have a range of skills from shooting, to paint play, to rebounding. I think since our team has such a good relationship off the court that it translates to the court, which helps build trust while playing.
Domenica: What I've seen so far at practices is our ability to adapt to change. It has been phenomenal. And I feel a lot of energy coming from everyone on the team.
Madyson: We have six seniors and we have been playing together for many years, so there's a lot of chemistry between us that leads the rest of the team. But all of the team is very talented and hard-working with strong young ladies.
Where have you seen the most improvement on the team and also in yourself as a solid contributor? 
Marissa: I have seen the most improvement in our teamwork. We are always looking to make the extra pass and support each other throughout the game. Within my personal game, I have seen the most improvement in my confidence on the floor.
Domenica: As a team, we've just gotten to know each other pretty quickly. I think my own game has improved because I started to really understand the next play up mentality at the end of last season and am continuing to work on that. I watch a lot of pro games and see that when they make a mistake, they move on from it, learn from it, and often make their best play right after that.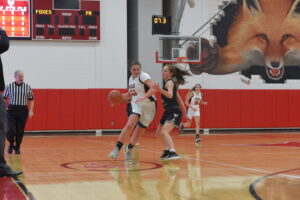 Sammi: This year, the team has significantly improved on making the most of every practice. Each day everyone comes in and works really hard to make not only themselves better, but the team as a whole. This will definitely pay off when we start playing games and get deeper into the season. 
What is the most important thing the team needs to do this season?
Ellie: I think the biggest thing for the team this year is to build confidence. We understand things are different because of COVID, but we have a strong group of underclassmen and upperclassmen who need to understand they are good players who are earning their time on the court. I know Coach Matvey talks about this a lot, but our mental strength has to be stronger. All of us have to work on understanding that we are good players and have the ability to do something great this year. I think we have already taken strides on that since last year. 
Domenica: Stick together and be there for each other.
Madyson: It is very important that we are as mentally strong as we are physical.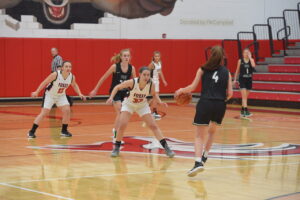 Sammi: The most important thing the team needs to do this season to be successful is working as a team. This year I think we can be great as a team. The seniors and I have played together since fourth grade and have always had great chemistry. Now that we are going to be back on the court together again, I think that we are capable of big things.
Have you noticed any differences between this year's team and last year's?
Ally: I believe that we will be better than last year since it is our second year with this coaching staff and the team has created good chemistry with one another.
Ellie: Last year I would say we were definitely a guard-heavy team. This year we are going to have more height. With Ally, Elsie (Smith, a sophomore), and I as posts and then a couple other players who can play both positions, we will have a height advantage over most teams. We are going to be able to take advantage of post play and hopefully pull down a couple more rebounds. However, this also means that us posts are going to have to handle the ball more this year, which is something we have been working on already this season.
What do you think the team's potential is in Class 5A? 
Ally: I think 5A will bring some challenges, but ultimately, I believe we will succeed.
Domenica: If we stay together and keep up our energy, I believe we can do anything. I think we'll do very well in 5A.
Sammi: I think that Fox Chapel can go very far this year in 5A. We were in a challenging section in 6A last year and held our own. Being moved into a new section means that there is probably going to be a target on our back because we are the "new guys." We need to set the standard for who we are going to be.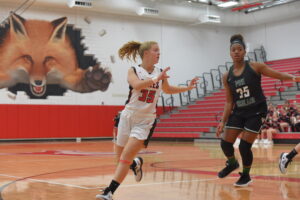 As a senior playing your last season, how do you want to remember your years playing basketball for the Foxes?
Marissa: I have been playing for the Fox Chapel Area girls varsity basketball team for four years now, but I've been playing with my fellow seniors since fourth grade. After eight years of playing with these girls, we have amazing memories and connections within our class, and I am looking forward to what this final year will bring.
Sammi: I will remember the awesome people I have met and the friendships I have made. Luckily, I was fortunate enough to have great teammates who are also my friends.
Coach Matvey and some of the players were asked what strengths they believe each senior brings to the court. Their combined answers:  
Ally has amazing blocking abilities on defense and has a nice touch to finish the ball around the hoop.
Domenica is a great ball-handler and is all over the court on defense. She also can drive and draw fouls, is an incredible scorer (last season's high scorer), and an overall great athlete.
Ellie is a leader and playmaker who can maneuver through double and triple teams to find her teammates. She is a fantastic passer and has an incredibly well-rounded game inside and out.
Madyson has a great shot and is a very aggressive player.
Marissa is a great teammate and a good shooter. She brings energy both on and off the court.
Sammi is a natural leader and a very athletic player. She brings an enormous amount of energy to the team.