The Fox Chapel Area girls softball team qualified for the WPIAL Class 5A playoffs again this year after a phenomenal first half of the season. However, after a 16-day break in the season caused by spring break and inclement weather, the team dropped its first two games back against Shaler Area and then North Hills. But this is a united, resilient team that then rebounded with a 15-0 win over Mars, followed by a 15-0 win over Hampton.
Softball isn't the only thing these young women have in common. Uniquely, all seven seniors seem headed to various careers in the health care profession, something their coach, Dr. Chris Olbrich, knows much about after practicing medicine for 27 years. He has given them advice when asked but has always tried to teach his players well-rounded life lessons and the skills they will need to succeed.
Outfielder Kaitlyn Legge says she's not that surprised that the seniors all have chosen related career paths.
"I don't think my answer is necessarily about why we want to go into that field, but why we'd be a great fit in the health care industry," she says. "Every member of this team is caring, attentive, and sharp when it comes to problem-solving. These girls could handle any obstacle that comes their way with grace."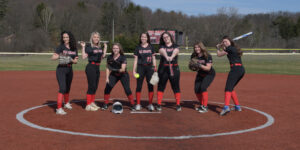 The Senior Lineup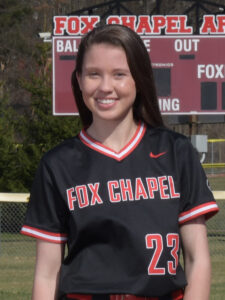 Pitcher Mackenzie Borkovich got her 400th career strike out this year and was a big reason why the team made it to the PIAA Class 5A playoffs last season. She also had a no-hitter this year. Mackenzie is proud of her personal achievements but says making the state playoffs last year for the first time in school history will always be a highlight of her years with the team. Next year, she will take that same intensity to Slippery Rock University as a full scholarship softball recruit. She will enroll as an exercise science major in the physical therapy track.
"I chose this particular field because I have had many experiences going to physical therapy, and it seems really interesting to me," says Mackenzie. "My mom is a nurse, and her helping others has inspired me to do the same."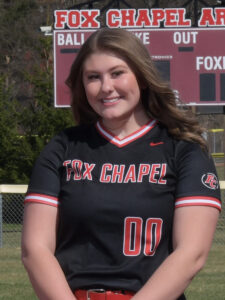 First baseman Riley Culleiton plans to follow in her mother's footsteps too and become a nurse. She will attend the UPMC Mercy School of Nursing and would like to specialize in psychiatry. She explains, "I think the stories my mom has from working in the ER have stuck with me the most. It's really shown me that every day and every patient is different, along with a different story."
On the field, Riley is most proud of how she has been able to improve her confidence and, subsequently, her on-base percentage and hitting performance – especially as they contributed to the team's upset wins against North Hills and Shaler in the first half of the season.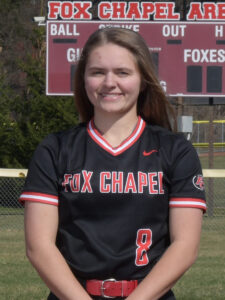 Catcher Amelia Herzer will attend Carlow University in the fall and major in nursing, while also continuing to play softball. She says her father, sister, and grandmother have influenced her decision the most, but her entire family has been helpers her whole life, and that's the way she wants to spend her future. Her area of interest is to become a traveling nurse who works aboard a helicopter.
"I love intense, heart-racing environments," says Amelia, who considers her biggest achievement in softball so far as breaking personal and team records last year as a junior and earning multiple top statistics. "I would consider myself an 'in the right moment' risk taker on the field. Softball definitely has helped me develop that characteristic through my years, but ever since I was able to walk, I have been a risk taker."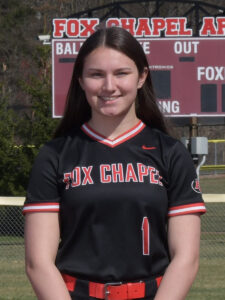 Kate Kinst is a courtesy runner for the varsity team. Her ability and willingness to step up when needed is an indication that she will do well in her chosen career of nursing. Her goal is to get her doctorate in nursing and work with children. After she obtains her degree, Kate eventually will decide if she wants to go further and become a doctor of osteopathic medicine.
"My mother is a nurse and so was my grandmother, who I really looked up to as a person," says Kate, who will attend Franciscan University. "I watched my mother go through nursing school and was able to see the hard work that is put into nursing and the payoff of that schooling. My brother is also a nurse."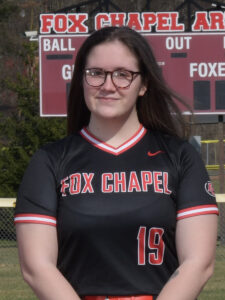 Kaitlyn Legge will attend Catholic University of America in Washington, D.C., where she will study to become a nurse anesthetist. It's something she has wanted to do ever since eighth grade when a certified registered nurse anesthetist came to school on career day and showed her science class how to intubate a patient.
The utility player says her best memories of her high school softball days were from last year when the team was an underdog but won its WPIAL Class 5A playoff game against Plum, which exceeded everyone's expectations and made school history.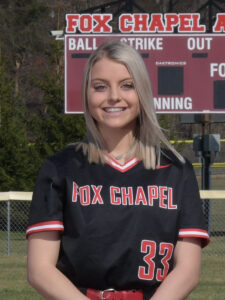 Third baseman Brynn Palmer is still a bit undecided about what path she will follow, but a health-related career is one of her top choices.
"I love the excitement of the emergency room; you're always moving, doing something, helping anyone, and I love helping people," says Brynn. "So, if I do go into the health care field, I would probably be an emergency room nurse, or working with newborns and new mothers. That would be really cool."
In her four years playing for the Foxes, Brynn says her best moment was probably the walk-off against Franklin Regional last year in the WPIAL semifinals but adds, "anything that I did to help the team is an accomplishment for me."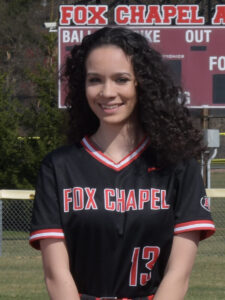 Macayla Weiner, the team's second baseman, has suffered from migraines for many years and did everything she could to find out more about them. She talked with her physician-coach and did a lot of research on her own. She has discovered that regarding the brain, an organ that is so important and vital for life, there is still much that is not known. That piqued her passion and interest in pursuing a premed track to become a neurologist. Macayla's eventual goal is to focus on degenerative disorders, such as dementia. She will attend the University of Colorado Boulder.
Of her role on the team, she says, "I'm not much of a hitter," but when we played Peters Township this year, Coach put me in to hit, and I hit a double into left field. I was also able to get home in that inning."
Best wishes to this special group of seniors in their pursuit of exciting careers and for a blockbuster remainder of the season.