The members of the Foxes girls lacrosse team were excited when they made the WPIAL Class 3A playoffs again this season, but with that joy came the realization that they knew they had to be even more focused and work even harder to get a good seed in the tournament. In the team's second-to-last game of the regular season, they did just that by beating Seneca Valley, 14-10, to bring their record to 10-3. The team has one more game left before the 2022 postseason starts.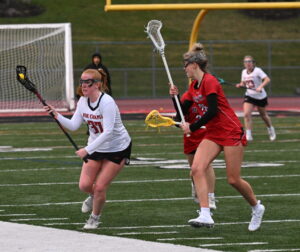 The Foxes came into the 2021-2022 season with 16 returning players, half of who were in the starting lineup last year. Their experience, and that of some other talented other players who worked hard to become dominant on the field, has created a powerful presence on both offense and defense.
"I'm really proud of how the season is turning out," says third-year head coach Kellee Cribby. "The team has worked hard on improving aspects of the game on both sides of the field and playing as a unit.
"We definitely expected a lot of competition in the back half of our season, and it's always fun to see things come together and the growth in teams at this point of the season. We are focused on maintaining our intensity and level of play, and continuing to improve and get better as we get closer to the postseason. We have a strong leadership group in our senior class and captains, and the underclassmen have risen to the challenge."
Three senior captains hold down the defense – Alden March, Annabel Siddons, and Mira Tramontina –and not only bring leadership to the team. They also have guarded the field impeccably. Their attack is led by another senior captain, Sydney Kennedy, with Lindsay Scheffler, Mercer Murton, Sydney Schutzman, and Zoe Fitzsimmons also making big contributions. Freshmen Annie Mohn, Kennedy Murton, and Meg Delaney have blended very well with the team and have really stepped up, according to their coach.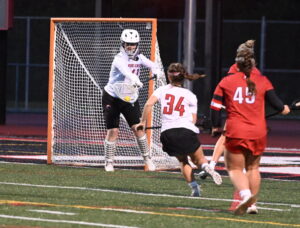 One of the biggest pieces of putting together the puzzle this year was who would replace goalie Hannah Humes, a 2021 Fox Chapel Area graduate who had ruled in goal for several years. She left big shoes to fill, but sophomore Tess Petrucelli has earned the trust of the players, especially the four defenders.
The coach is especially proud of how the players have continued to work hard on improving their game and are playing as a unit, and have done so despite some pretty rough weather conditions.
"Spring in Pittsburgh makes for some interesting game climates," says coach Cribby. "One week, we went from playing in the snow, where the lines were barely visible, to playing in 80 degrees and sunshine. As a team, we emphasize focusing on the aspects of the game that we can control and, unfortunately, weather isn't on that list. It definitely adds a mental component to the game."
Staying Focused, Sticking Together
One thing that the players have noticed this year is the amount of team chemistry. Annabel says she has noticed improved team chemistry this year. "We play more as a unit, and the team just feels more cohesive this year. We also have more depth with multiple girls who can score and put up points with assists. Sydney, Lindsay, and Sydney are our leading scorers, but Mercer and Meg, along with others, have contributed in each game."
"Our strategy during games to keep scores low is a man-on-man defense," says Annabel. "Tess is the last line of the defense, and she has really stepped up and is truly doing an amazing job in goal so far."
However, every game is being viewed by the players as a means to an end – just not the one from last year when they lost in overtime in the first round of the WPIAL playoffs.
"In my opinion, we lost that game because of our attitude," Sydney says. "One of the main things we have been working on this season is keeping our heads up even when we are down and not giving up.  All of the girls on our team are extremely competitive, and every game, we give it our all to get that win."
It appears they are doing just that. After very few losses this season, the players have bounced right back and taken control of their destiny. It's something know they can do and just have to continue to keep in mind as they face the area's best teams in the postseason.