His starting lineup is still fluid this early in the season, but what Fox Chapel Area wrestling coach Michael Frank is sure of is that he has more athletes to select from this season than he can ever recall. The 2021-2022 squad has 31 members, 23 of whom are newcomers – 16 freshmen and seven sophomores. Of the 11 weight classes the Foxes wrestled in at the season's kick-off tournament, the Hampton Duals, seven were filled by freshmen and sophomores.
The turnout is particularly rewarding for Michael and his father, Ron, who have led the program for many decades. They have dedicated their lives to the sport, particularly when it comes to getting kids involved when they are young and then helping them to develop all the way through high school.
Young, But Experienced
"It's a very young group this year – half of our eventual starters will be freshmen and sophomores, and some will play prominent roles," explains coach Frank. "They all have experience wrestling at different levels in our program, whether it was on our middle school team, or in our youth program. That advantage has allowed for a smooth transition here at the beginning of the season.
"However, although we're young, they all competed well at the Hampton Duals and were some of our top performers, so that's promising. We have a lot of competition this year within our own team in a couple of weight classes, and that's good because it pushes the kids to work harder. I look forward to seeing how things work out."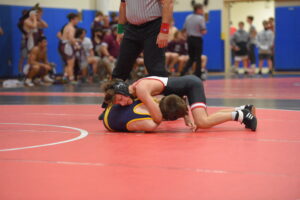 Two freshmen wrestlers had the best overall records at the duals and proved they are solid competitors at the varsity level. Michael Worsen (106) was undefeated with a 5-0 record, and Landon Funk (113) went 4-1.
"Both Michael and Landon came to us with a lot of experience," says coach Frank. "They have been with our program since the youth and middle school levels, and have practiced together for many years now. They push each other and are very good, competitive practice partners."
Sophomores Alex Kaufmann (145) and Josh Alexander (126) also had great starts to their seasons as well, going 4-1 and 3-2, respectively.
"Alex and Josh have been working very hard to strengthen their areas of weakness and are daily examples to the team of how hard work and determination can lead to improvement," according to coach Frank. "Even though they are only sophomores, they have started to take on more of a leadership role with the team."
Also, at the December 11 multischool tournament, senior Jake Patterson went undefeated in his two matches, and senior James Trageser had a good day filling in at 172, two weight classes above his normal competitive slot of 152.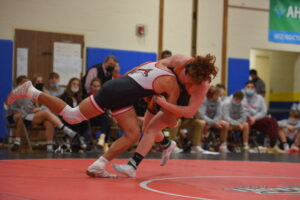 "Jake was with us in his sophomore year and then didn't compete in his junior year, so for not being on the mat for almost two years, he did very well," according to coach Frank. "James just loves to compete and quickly picks up the techniques we've shown him."
Senior Ray Worsen has always been a consistent performer for the Foxes and placed fourth last year in his weight class at the WPIAL Class 3A Section 1 championships.
Another female wrestler, freshman Teagan Welty, has joined sophomore Sydney Schutzman, and they have proven to be good practice partners. Female wrestlers in the WPIAL often wrestle only in matches when the opponent also has a girl competing at the same weight class, or if both teams and their wrestlers agree to having a female compete with a male.
Fluid Roster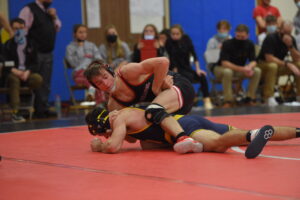 "As far as the starting lineup, things are still up in the air in some weight classes," coach Frank says. "We might have some shifting at the start of the new year because of certain positions that remain very competitive, and also the WPIAL changes each weight class by two pounds at the beginning of each year."
Overall, the coach couldn't be happier with how things are shaping up.
"Of course, we know that mistakes are going to be made and things might get tough for some of the kids, just because of how young they are," he says. "But I'm pleased that everyone is eager to come to practice and learn, that they are dedicated, and share a commitment to hard work. In the end, our goal is to see every athlete find the most success possible."
The staff also has a new addition this season in former Fox Chapel Area, Pitt, and NFL football player Adam Bisnowaty, who was a member of the Foxes football staff in the fall. He will serve as a part-time volunteer assistant. Coaches John Baxter and Trevor Hartless have returned as full-time assistants. Former longtime coach Ron Frank and Tim Frank also are back as volunteer assistant coaches.