Head swim coach Dan Taylor is excited about the upcoming season – and for good reason. Almost every varsity swimmer from last year has returned, and, in addition to them, are many freshmen who are high-caliber swimmers capable of making an immediate impact, as well as at the end of the season at WPIALs.
The strength and depth of the girls team should go far in helping them to maintain their status as section champions – a simultaneous feat that made school history in 2020-2021 with the boys winning their first section title since 1991.
The girls varsity returners include senior captains Rei Sperry and Ariana Pasquella. Also returning are two-time state champion and All-American Sophie Shao, a junior, and Talia Bugel, also a junior, who has been a record-setting backstroker and member of the 200-medley and 400-freestyle teams since she was a freshman.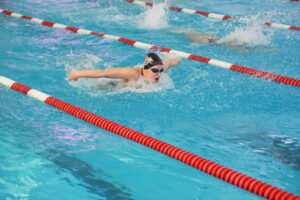 Junior newcomer Payton O'Toole is expected to add great depth, as will a strong freshmen class that includes Grace Kovach, Sarah Pasquella, Margaret Rusche, and Rayna Huang.
Sophie is determined to be a three-peat state champ in the 100 butterfly and has been the anchor of the 200 medley and 400 freestyle teams. The 400 freestyle relay set a school record last season, breaking the previous record that stood for 25 years. Since her freshmen year, Sophie has broken the school record in the 100 fly, as well as three pool records. "Sophie is a very versatile swimmer and can swim every event at a high level. However, the 100 fly and the 200IM are her best events," according to Taylor.
Talia enters her junior year looking to repeat as the 100 backstroke WPIAL champion. "She is one of the top backstrokers in the WPIAL but will have her work cut out for her this year to repeat as champion," coach Taylor says.
In addition to backstroke, Talia has been a strong performer in the 50 freestyle, placing sixth her freshman year at WPIALs and third last year. Other events, such as the 200 free or 500 free, are not out of the realm of possibility for Talia.
Sophie and Talia both qualified for the USA Swimming Junior National Championships that are being held December 9-12.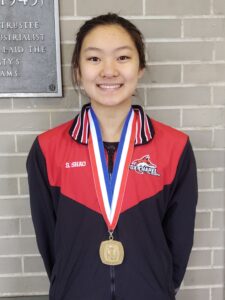 "They are in excellent shape and hopefully will swim their best times this season, but when you're at their level, even shaving a couple of tenths of a second is a big deal," the coach explains. "I'm really looking forward to seeing where they end up at the end of the season."
Last year, Rei swam the 100 backstroke, the 100 fly, and the 100 free, but this year she will be placed in a freestyle sprint role as well to help bolster the 200 and 400 freestyle relays. She will also more than likely focus on the 100 free, an important event for the foxes to score points in at WPIALs.
Coach Taylor says, "The 100 free is really an important event for us and we need to be able to continue to score in it this year after losing Vivian Shao to graduation. Rei is an important part of what we need.
"Ariana swam the 100 breast the past two seasons and is proficient at the 200 free and 500 free. She's probably the one person with who I don't have a clear idea of where I want to put her because of the many different ways I can use her in the lineup. She'll be an important point scorer for us."
Payton is another top-caliber freestyler and backstroker, and will add even more depth in those events. She is poised to be in the mix to score at WPIALs and give the team an advantage that they didn't have last year. Payton also will swim the 100 free along with Rei. Additionally, sophomore CJ Smith is expected to have an opportunity to qualify in two or three WPIAL events.
Taylor says Sarah shows a lot of promise and should also be a major contributor this season. At 6'2", with a thin body and long arms, Sarah should be especially strong in the freestyle. Margaret's primary events are backstroke and IM, while Rayna is more of a true middle-distance swimmer and will swim the 500 freestyle and 100 butterfly. All of these girls are expected to contribute immediately.
"Obviously, having a great amount of depth will help us," coach Taylor says. "If there was ever a time for the girls team to take a run at winning the WPIAL title, this is it."