Fox Chapel Area soccer player Addie Piper is very candid about how hard the COVID-19 pandemic affected her, especially in the beginning. But, in the end, and after having a lot of time for reflection, she says it gave her a great opportunity to make some changes in her life and re-evaluate her priorities.
Soccer was always one thing that was at the top of her list, but going into her senior year, the defender turned attacking forward decided to take a new approach. Now, she couldn't be happier with the results – she finally got the nod to be in the starting lineup.
Her experience serves as a life lesson for all other athletes and students in general who aren't quite where they want to be but are willing to do what it takes to play out their big dreams.
Setting a Higher Standard for Herself
Becoming one of the starting 11 players wasn't easy. In the past, Addie had often felt as though she was hitting a brick wall in her training and performance. She did an honest self-assessment and says she realized she needed to work even harder, remain flexible, and become "a little less stubborn" to overcome the obstacles that were holding her back.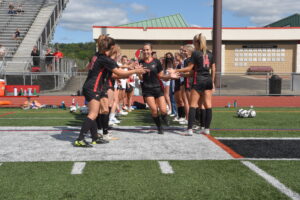 "As time went by, I realized that that wall wasn't going to fall down by itself," Addie says. "I've always liked to work out but wasn't doing enough of it. Now, if I'm not playing soccer to get my workout in, I'm usually out for a run or doing some type of strength training. I really took advantage of the summer sessions we had three days a week, and I feel like that has impacted the tone I set for myself coming into the season. And, it has been a great opportunity to get to know some of the younger players."
The forward says another part of her metamorphosis was due to her being amenable to change.
"I have always moved positions throughout my soccer career, and I think that's because when there is a position that needs to be filled, I'm always willing to step up and learn that position if it means I get to be out on the field with my teammates," Addie says. "This year, Coach asked me where I felt like I fit in best, and I told him I was confident in playing a more attacking position like forward. But I also mentioned I was open to any position."
Addie already is seeing the kind of results she has looked forward to. During the recent matchup with Hampton, the forward scored her first goal as a starting varsity player. Her team couldn't have been more excited for her.
Fellow senior teammate, Carlie Barnett, says, "Addie has always been such a versatile player, and she's tried her hardest at every position she has played. She was so happy when she scored. I will never forget the look on her face. I'm so glad that she's starting, and I can't wait to see what she does for the rest of the season."
Her coach, Peter Torres, adds, "Addie has worked extremely hard to push for a starting position on the Fox Chapel Area girls soccer team. She came into preseason fit and ready to adapt and learn a new position. Her work rate is unmatched in practice, and she is a positive role model for the team. She has always been a vocal supporter of her teammates, but this year she has learned to turn it into a leadership role as she and the other seniors guide our team."
As a vocal team leader, Addie has her own ideas on what it means to take on that role. She explains, "I try to base my role as a leader on keeping the environment fun to keep players engaged, but also letting them know when we need to focus more on the current task. Creating a comfortable setting is something I have always viewed as important. I believe it is easier to succeed when people are placed in situations where they feel comfortable."
Addie believes the team's mental confidence and deep talent will help steer the team to continued success in WPIAL Class 4A.
"I think a strength of our team is that we don't let outside factors impact what we do on the field," she says. "Another strength is that we want to win and will do whatever it takes to achieve that. All of these things have set up the team for success this season."
Personally, Addie is thrilled to see the results of her changed mindset. She adds, "I've never been so excited to see what I will be capable of contributing!"