With eight returning starters who play a variety of positions, the Foxes field hockey team is in great shape to have another very successful season. Only this year, instead of settling for the WPIAL Class 2A runner-up slot, they are determined to go for gold.
"We bring a balanced and experienced skill set to the table," says Coach Emily Humiston. "All of our returning starters have played in a WPIAL championship game, so we expect them to be poised and bold under pressure."
It isn't only the returning eight who are cause for optimism. The squad has tremendous depth, and the coaches believe many players can be called upon at any moment. Part of that entourage includes senior keeper Mira Tramontina and junior Anna Drum, who were named as "Players to Watch" by the local media.
"Both Mira and Anna stepped up as leaders last year with actions on the playing field and in practice, and they understand our team strategy and coaching objectives very well," Coach Humiston says. "We also have a very competitive situation where we can swap different people in at different times, and some underclassmen who have stepped up beautifully on our midfield and attack."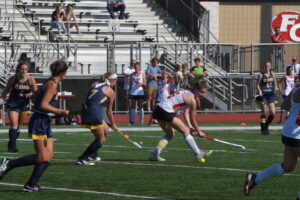 Senior captain and starting midfielder Alden March is involved in both the offensive and defensive corners on the field. She has proven she can score goals and prevent the opposing team from making them. Alden explains, "Being a defensive midfielder causes me to be all over the field, and being aggressive in the way I play allows us to have more possessions."
She is excited about the team's potential. "We have many different talents on our team, and our skill level is very high, even with it being so early in the season," says Alden. "Our strong bond as a team makes it super easy to work together, and we are motivated to win (WPIAL) gold this year since we came so close last year."
Olivia Pelcher, a senior who has played a mixture of midfield and forward, adds, "Each position on the field is filled with the best of the best players. We have such a well-rounded team, and when we put everyone together on the field, our ability to combine our skills and execute comes through. Every single player is enthusiastic about field hockey. Our determination makes us play to the best of our abilities."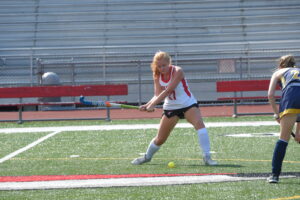 Senior Sydney Kennedy is one of those rare athletes who can easily jump from one sport to another with relative ease. A captain for the Foxes lacrosse team that made it to the playoffs last season and a two-year member of the volleyball team, Sydney picked up field hockey last year. Even without any experience, the aggressive defender/forward quickly caught on and ended up starting every game.
Sydney, described by a teammate as very aggressive and motivated and the most improved player says, "I play defense, but this year the coaches also would like to see me play some offense. I think my biggest strength is not necessarily my field hockey skills, but more the positive energy I bring. I couldn't love the (field hockey) team more."
Olivia's experiences last year taught her a lot and she describes what she learned. "You can have incredible stick skills, but your ability to communicate with the team is what will end up being your biggest skill. Whenever we all work together as a team, we play our very best. The mixture of our speed, stick skills, determination, and communication is what will make us a gold medal team this year."
Coach Humiston fully agrees with her players and praises their efforts and enthusiasm. "We feel like this team is well prepared for the season and will continue to sharpen that preparedness. They already believe in themselves, but they must continue to have that mindset, regardless of the ebb and flow of games."