Prior to the WPIAL Class AAA Section 3 Individual Championships that were held Saturday, February 24, at Fox Chapel Area High School, Coach Ron Frank said, "There are 12 teams in the section, and it's a very strong section. In the past we've always taken five or six kids to WPIALs afterward, but with the youth of the team, we'll see how things go. There are always surprises."
He was spot on with his predictions.
Five wrestlers will represent Fox Chapel Area at the WPIAL AAA Individual Championships March 3 and 4 at Canon-McMillan High School. They are junior Avery Bursick (138-lb), junior Sean Mahon (170-lb), senior Zach Carcy (182-lb), sophomore Ed Farrell (195-lb), and sophomore Donovan Cutchember who won the gold medal in the 220-lb weight class.
"I think five qualifiers is very good," says Coach Frank, who has headed the program for 37 years. "We were very close in a couple of other matches too."
Of those who did qualify, Avery had a 20-7 regular-season record, was seeded fourth and finished fourth. Last year he was a sixth seed. Sean, who was 9-12 for the year, pinned his final opponent in 3:24 and also advanced. Zach had a regular season record of 23-4. He was seeded fourth, but landed the bronze medal after a very close final match. Ed had a 19-8 season, was a sixth-place finisher at the section individual tournament last year, was the fourth seed this year, and also advanced to WPIALs with a bronze medal in hand.
Finally, Donovan had the best record this season at 24-4, and defeated the number- one seed to earn his first section championship title. Last year as a freshman, he finished in sixth place.
Donovan was happy with his performance as he pinned all of his opponents before winning the championship match by a 5-1 decision.
"I felt good on the mat and felt my wrestling was 'all there' yesterday," he says. "The moves I'm learning just all fell into place and led me to winning. The competition is going to be really hard at WPIALs, and only the top four in each weight class advance to states, but I'm hoping to place high enough to make it."
"Donovan is wrestling very well," adds Coach Frank. "He's still a young wrestler. He wrestles at 220, but weighs about 205, so it's a comfortable weight class for him and he doesn't have to worry about his weight. We have high hopes for him."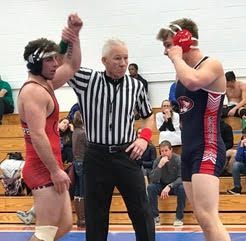 He also praises Zach, the sole-qualifying senior who advanced to the PIAA tournament as a sophomore, but missed all of last season due to injury.
Coach Frank says, "Zach is wrestling in a pretty dominating fashion, especially with two of the WPIAL's top-rated wrestlers at 182-lbs. in our section. There's just great competition in that weight class. He had his work cut out for him this past weekend, and he did a great job."
He adds, "Avery, Ed, and Sean are all underclassmen who have wrestled well this year, continued to grow with each practice and match, and have a great opportunity in front of them this weekend. "
Overall, all of the wrestlers had fine showings, indicating the program has come a long way from the beginning of the season when half of the starting line-up had never competed on a varsity mat before.
Coach Frank praises them for their efforts saying, "Our team record of 12-8 says how much we've grown as a team and how well they paid attention and learned. Our coaches are proud of how our experienced kids really stepped up to help teach the younger guys."
He also recognizes there is a lot of learning and teaching going forward, but for now, the coaches and five WPIAL-qualifiers are focused on the next few days ahead.
"Year-in and year-out the WPIAL is the most competitive region in the state," says the head coach. "And Pennsylvania produces many of the best wrestlers in the country. We'll see how well prepared our wrestlers are.
"We're moving on with hopes of doing well and having some of our kids qualify for states. In these tournaments it just comes down to whomever wrestles better on those days."