For Jonah Cagley, it was a been there, done that kind of day, but nevertheless, a golden experience that never gets old.
For the second year in a row, the heavily-favored junior won the WPIAL AAA Boys' Diving Championship with a score of 536.85, a showing that beat his performance last year by more than 11 points.
"It's just a great feeling and I'm extremely happy with my WPIAL performance, but the thing with diving is that there is always room for improvement," says Jonah, who, on a broader scale, did very well at the elite USA Diving National Championship last summer. "I'm going to go back to practice and work just as hard to focus on diving the best that I can and nailing my dives at the state meet. There will great competition there, so it is going to take a lot of hard work and practice to keep up with the other competitors.
Jonah's achievements have been widely documented, beginning when he was a freshman. He's broken so many pool and Fox Chapel Area records that he's often competing against himself when he steps on the board. But now he's after something else – the PIAA crown.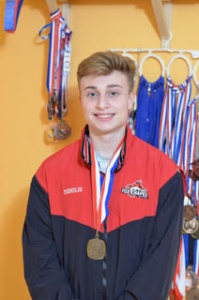 Jonah says he'll basically use the same order of dives at the upcoming PIAA Championships, March 14-17, 2018, at Bucknell University, when he hopes to be able to put a gold medal side-by-side with the bronze one he earned last year as a sophomore.
This time, he'll have a younger version of himself to keep him company. Freshman teammate David Manelis placed third at WPIALs and was the only one in his age group to medal at the Class AAA boys' championship.
"David did very, very well," says Coach Vernon Yenick of his diver who only started the sport a little more than three years ago after spending seven years as a gymnast. "Some of his dives were just beautiful. He's the kind of diver who is consistently good."
"It's exciting and feels great," David says of his bronze-medal finish. "I think for states I might rearrange my 11-dive list some but, overall, I worked really hard for this and I think it was one of my best performances in my high school career."
That career is barely past "go," but still, David's skills already have earned him an invitation to participate in the upcoming USA Diving Junior World Championship Trials, April 18-22 at Miami University in Ohio. The meet results will determine the team to represent the United States at the 2018 Federation Internationale de Natation (FINA) World Junior Diving Championships in Kiev, Ukraine, July 23-29.
David gives credit to Jonah, who is also his teammate on the Pitt Aquatics Diving Team, for showing him the ropes.
"Jonah has really taught me a lot about how to concentrate before dives and how to be a good teammate," David says.
As for Jonah, he is happy to give his friendly competition some kudos for what he has achieved so far.
"David is so talented and was only 35 points off the gold," Jonah said following the WPIAL meet. "When he's a senior, everyone better watch out!"
For Coach Yenick, it was just an amazing day to see his divers do well. Besides Jonah and David, junior Magnus Loeffler and sophomore Nate Serkov also made it to the finals. Magnus finished ninth and Nate placed 14th.
In the girls' diving competition, junior Katie Eames performed well in the first round and the judges awarded her sevens on her reverse dive in pike position, but she wasn't able to get through to the second round.
"To have two kids on that WPIAL winners' podium, let alone in top medal positions, is very impressive," says Coach Yenick, who was a highly decorated competitive diver himself during in his high school and college days. "The competition at states will be fierce, and that's just from knowing whom we're sending from the WPIAL. But I see them doing very well and it should be a good, hard-fought competition with some excellent performances."