Even when she was a freshman, Elsie Smith never had a problem speaking up when playing with the older athletes on the Fox Chapel Area girls basketball team. Now a junior, the forward not only uses her voice on the court during games but also has played a big role in practices by talking to the underclassmen about how to prepare for the rigors and ups and downs of high school ball.
This season, teaching the young players will be more important than ever. There are a lot of new, young faces that will get a lot of minutes on the court after the team lost four of last year's top players to graduation.
"I always kind of wanted to be a teacher," says the honors student. "During the offseason, I played in the summer and fall leagues, and tried to go to as many open gym practices as I could. I think it's important to show the freshmen that it's important to attend them. I help them whenever I can, including learning the playbook since they are new to the team."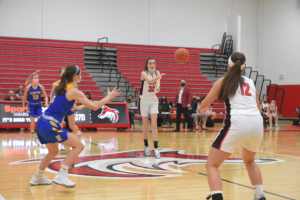 Coach Marty Matvey says Elsie is a natural leader and has always been up for a challenge.
"Elsie has played a big role for us since she was a freshman, and we have been preparing her for this moment since then," Coach Marty Matvey says of his 6-foot-tall team anchor. "Last year when she was only a sophomore, Elsie was named to the Valley News Dispatch second team all-star and was selected as a Big 56 honorable mention.
"What I expect of myself this year is to score more," Elsie says. "That's my top priority, and I would like to average double digits. But I also just want to get all of my stats up. Especially when I was a freshman, I didn't shoot much, but, gradually, I've been shooting more."
To make that happen, over the summer and fall, Elsie practiced shooting using her own hoop in her driveway for hours on end. Last season, Elsie averaged 8.8 points a game and helped the Foxes make it to the WPIAL Class 5A quarterfinals.
"I think I've also been playing more aggressively, and the defensive part of my game has improved since last year," says Elsie, who has played since she was young. In fifth grade, she tried out for an AAU team, made it, and has soared since then with her inherent talent.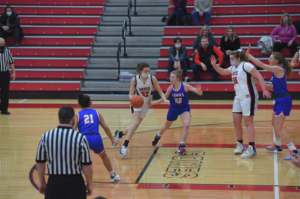 "There are a number of aspects of Elsie's game that are impressive, including her shooting and her ability to defend all five positions," Coach Matvey says. "Her height and speed on the court also allow her to work both ends of the floor. She balances both her competitiveness her ability to be approachable and a jokester with her teammates. That's what is great about her. She knows when to turn on her competitiveness and leadership, and when to make a joke, sometimes at my expense! She's very comfortable, and this is what we wanted for her – going from a quiet, wide-eyed freshman to a bold and personable leader."
A lot of pressure will rest on Elsie's shoulder his season as the program reloads. However, no matter what personnel the team has, Coach Matvey still has standards and expectations that he wants to achieve during the season.
Elsie realizes the important role that she plays and says there is some pressure that goes along with that, but often reminds herself that she's not the only one on the court who will determine the outcome of games.
"I am learning that I don't have to do everything," says Elsie. "I just love basketball because it's never boring, and you're also moving all the time."
The next home game of the 2021-2022 girls varsity team will be at 5:30 p.m. December 14 versus Shaler Area High School.