The 2022 Foxes baseball team is in the WPIAL Class 5A playoffs, and for the DeMotte brothers – Jake and Ben – it is the end of an era for them to play together as teammates, not only in baseball, but also in football and basketball.
Being teammates isn't the only thing the DeMottes have in common. Probably the most noticeable similarities are how competitive they are – with opponents as well as each other – their will to win, and that neither backs down from a challenge. They also know what it takes to be part of a winning team, first, this fall, as members of the Foxes football team that won its first playoff game in 24 years, and, for Jake, a senior and a starter on the Foxes basketball team, which won its first WPIAL championship since 1977 and played in the PIAA Class 6A semifinals. (Ben, a sophomore, played hoops as a freshman but chose to spend this winter training for baseball.)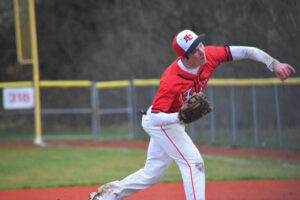 The DeMottes want to take that same momentum into baseball's postseason, not only for the teammates they have played with since elementary school, but also for coach Jim Hastings. Getting to the playoffs hasn't been the problem during the coach's five-year tenure with the team; getting the first postseason victory has. Jake and Ben want to play a key role in that effort, with Jake as a right fielder and Ben at second base.
"Baseball is a lot more of a mental game for me than football or basketball, and it definitely requires patience," says Jake, whose ability to track down long fly balls, his eye-hand coordination, and his athleticism make him a good fit for the outfield. "I like that there is a lot of time to think between plays and innings."
Jake has even learned a thing or two from his younger brother, especially about his work ethic. It was Ben's dedication to working out in the gym and practicing over the winter that contributed to the sophomore making the varsity baseball roster.
"Some of the skills I worked on were getting my hands quicker, getting my feet less static, and not getting too big of a 'kick' before I swing when batting," says Ben. While he has always been a confident guy when playing sports, being a rookie on the varsity team has triggered some nerves at times.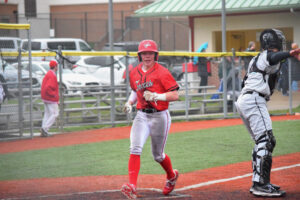 "It's been nice having my brother around, because I get really intense before games and I can get down on myself. Jake knows better than anyone what to say to me," says Ben, who has a powerful throwing arm and is forecast to be the starting quarterback on the Foxes 2022 football team.
"Especially since this is his first year on varsity, Ben can get overly excited and sometimes gets in his head," says Jake, whose love of baseball started with tee-ball when he was 4 or 5 years old. "I'd like to think I've kept him level-headed. I keep telling him that you can't overthink everything. Something else I hope I've taught him is that perseverance pays off."
While Jake and Ben share a lot of similarities, they are quite different when it comes to game days. Jake has had much experience preparing for big, important competitions, especially in basketball, and Ben is the lucky beneficiary of Jake's knowledge.
According to Ben, "Jake has a looser approach before games. He'll talk to the guys and joke around, but I don't like to talk too much. I just like to focus on the game and listen to music. But during games, I am more excitable and like to scream loudly after a big play. Jake is much quieter."
Their head coach has great respect for their likenesses and differences, which have contributed to the team's success.
"Both Jake and Ben are tremendous athletes," says coach Hastings. "Even though they might be considered undersized by some standards, it doesn't matter to them. They just go out and compete. They have been very strong defensively this season, and all year long they also have been getting on base and scoring runs. We need them to continue that in the playoffs."
Rivals, Yet Biggest Supporters
There are many kinds of rivalries in athletics, but the one between some brothers may be the most competitive of all.
"I want to beat him, and he wants to beat me, especially in sports," says Jake, who is headed to St. Vincent College in the fall and will play for the men's basketball team. "We're going to go at it with each other, but at the end of the day, we love each other."
"We talk some smack to each other, but it's all in fun," adds Ben.
Even the coaches and players get a chuckle watching them banter. "They are very competitive with one another," coach Hastings says. "The coaching staff and team gets a good laugh out of it during practices. But when it comes to games, they are each other's biggest supporters."
Memories and More
"Playing baseball definitely has been a great experience for me," says Jake, an aspiring physical education teacher and coach. "I've learned a lot from the game, and I hope I've taught Ben something."
Years from now, it's inevitable that Jake and Ben will end up talking about their memories of playing sports at Fox Chapel Area High School. Hopefully, one of their best recollections when they say, "Remember when?" will be of how they helped the 2022 baseball team get that elusive first-round Class 5A win in the playoffs – and more. But no matter the outcome of the baseball postseason, the brothers will come to appreciate all of the ups and downs and excitement they shared as high school athletes.