Watching David Manelis dive is a powerful, yet beautiful experience. The height he gets on his takeoffs is twice that of his peers, and his picture-perfect, powerful form and major attention to every detail have combined to make him the most dominant diver in WPIAL Class 3A ­– twice. David just won his second consecutive gold medal at the 2020-2021 diving championships with a final 11-dive score of 571.75 points, nearly 50 points higher than he scored last year. Additionally, he stood 122.30 points higher than his closest competitor, as compared to last season when he beat the silver medalist by 100 points.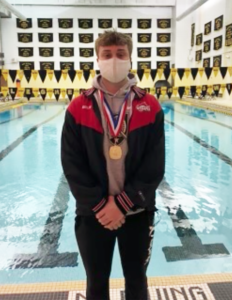 Due to the pandemic, the field of qualifiers going to states was sharply shaved. The PIAA is only taking the champions from each district in Pennsylvania.
"I'm happy and proud of my performance," says David, who will continue diving at West Point next season. "This morning I was a little nervous going into it, but when I got there, I felt a lot more relaxed. It felt really great to win, for both myself and (coach) Vernon."
Vernon Yenick expects a lot out of his star pupil because he knows what he is capable of. He says, "When I first started coaching David when he was 10 or 12, I knew right away he was going to be a champion. His rise to where he is today was incredibly quick. He is a great athlete and whatever he puts his mind to doing will be great. David makes everything he does look easy, but it isn't easy at all. Today, he performed incredibly well, but I think there is an even better performance ahead of him at states."
The diver and his coach agree that his best dive at the championship was his forward 1½ somersault with two twists. The judges gave him his highest marks of the day on that dive – four 9s and an 8 – and he scored a total of 67.6 points. His second-highest score was his inward 1½ somersault in pike position for which he earned 60 points.
Coach Yenick says he may be getting ahead of himself, but, in his eyes, David can be an Olympic diver. "He's a very disciplined person and even more than that, he is extremely talented. I'm sure that he will continue to develop and become even better at West Point. They have a great program."
As for his WPIAL experiences, David says as it was getting toward the end of the meet, it really started to sink in that this was his last-ever WPIAL meet.
"Diving has been such a big part of high school and my life, as well as a lot of other people's lives," says David. "When looking back, I can see how I've really matured and progressed from my first year on the team. It's been exciting."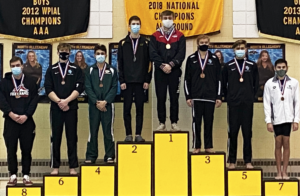 Fox Chapel Area also had two other divers qualify for WPIALs. They were seniors Aidan Ireland and first-year diver Tristan Vettier. Both advanced to the semi-finals and Aidan advanced to the finals where he placed eighth.
Coach Yenick says, "Aidan really pulled it together in that his form was exponentially better than it's been before. Tristan only started to dive this year, but I was pleased that he qualified and with how he did. One of the dives he performed he had just learned the day before, and that was pretty amazing. I just feel very grateful to have coached such a tight group of guys who are very supportive of each other. The fact that they are also close friends is beautiful to see."
The PIAA Class 3A diving championship will be held Saturday, March 13, 2021, at Cumberland Valley High School in Mechanicsburg. They will be broadcast on tribhssn.triblive.com, beginning at 6:30 p.m.