They call him "Oli" in soccer and "Cooper" in football, but whatever name Oliver Cooper Smith answers to, you can add terrific scholar-athlete to that list. The senior has always been a strong, physical soccer player, and still is, but this year he's extended his mighty leg to include football – and he's making a big impact there as well.
Over the first seven games of the season, he completed 31 kickoffs for 1,724 yards, with an average of 55.6 yards – his longest so far was 80 yards – and he is six of six on extra points.
He explains how that 80-yard kick came about.
"We had just scored a safety, and we were kicking from the 20-yard line," says Cooper. "It was only my second kickoff of the season. I was surprised and definitely felt a little lucky. It always feels good to set up the defense in the best position possible."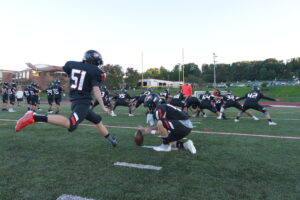 Until this year, Cooper never thought he would be on a field other than for soccer. It was only after many years of wearing out dozens and dozens of cleats that he became intrigued by the idea of adding football to his résumé.
"Never would I have thought when I was young that I would end up using the same skills from the soccer field and bring them to Friday night games," says the defender, whose Foxes soccer team is headed to the WPIAL playoffs again this year.
Exactly how all of that came about was a bit of happenstance.
"My good friend (and soccer teammate) Ashton Schutzman was talking about how he was going to kick this year, and I said I would do it with him," says Cooper, a personable guy who has an easy smile for everyone. "Originally, I was going to punt, and he would be the kicker, but he then he had to back out, so I became the kicker for the team. All of the coaches were very welcoming and tried to make me feel comfortable."
Cooper remains humble and downplays his role.
"My success this year has been decent," says the officer for Best Buddies, president of the Political Discourse Club, and member of National Honor Society. "I quickly found a liking for kicking and want to do better each time I kick. Playing soccer for many years contributes to my coordination when kicking a football. They are two completely different shaped balls, but the mechanics are very similar."
Cooper is interested in keeping his options open for competitive athletics beyond high school, so he won't be spending Halloween at a party; he'll be at a camp to work on his kicking and punting form and technique.
Soccer in His Blood
Most people don't know it, but Cooper comes from a family with a storied history in Foxes soccer. His uncles, Terry Piper and Reed Smith, were high achievers who played on Fox Chapel Area's only state championship team in 1990.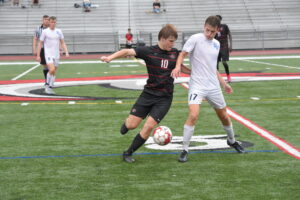 "I love to have had family success in the program," Cooper says. "Anytime I see the state championship plaque, it reminds me of them, but I never feel pressure to live up to them. I know they are proud of me for any success I accomplish. My personal success will never match them, but I look up to them, on and off the field."
Cooper started playing himself at a very young age, with his dad as an assistant coach. He says, "Fox Chapel Area Youth Soccer was where my love for the game started, and I fell in love with it the first time I stepped foot on the field."
Now, in this last season with the high school team, Cooper has adjusted to another new role, this one in the game he has loved since he was a child. He was moved to defense in soccer after playing many years as a mix of attack and defender in the midfield. Showing his team-first mentality, he viewed the change as an opportunity.
"It was a foreign position to me, but I was excited to venture into new territory," states Cooper. "Playing something new was not anticipated, but I have found a fond liking for it and continue to work at it every time I set foot on the field."
It's also a nostalgic time for Cooper. He says he enters every soccer match and football game realizing how much he will miss them once he graduates in the spring.
"Taking either soccer or kicking to a college level would be amazing," he says. "I love playing on the same field and working toward the same goal with the same people I share lunch with the next day. Beating a rival team or seeing your teammate step up is so fulfilling and a feeling of accomplishment. These memories will last a lifetime. Ultimately, the reason I play or do any form of kicking is to be a part of a team."