Nina Busch has become accustomed to winning. Since she was a sophomore, she has left her mark on the Foxes team. This season, she helped lead them to a third consecutive section title, and, most recently, the WPIAL title on Thursday. In the 18 games the squad played, Nina was the match medalist in 12 of them, and even in the two non-section losses, she still was the match winner in each. Now, instead of working toward a victory for her team, the 2021 WPIAL Class 3A silver medalist will be playing for her own personal satisfaction at the upcoming PIAA individual championships. They will be held October 19 at the Heritage Hills Golf Course in York.
"I finished third last year at the WPIAL finals, so it feels nice to improve," says Nina, who knew she was executing fine this time around but had no idea of how everyone else was doing. "I played well this year, but it wasn't the best round of golf I've ever played. Putts just didn't drop for me, but I kept the ball in play and hit it well enough to make a lot of pars. I think the best part of my game was my ball striking."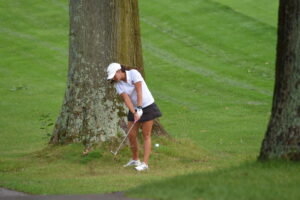 With an extremely tough WPIAL field comprised of 36 golfers, things were changing quickly, and there were many times it looked as though there would be some playoff situations. (PIAA rules only allow seven golfers to advance.) Nina was always up toward the top of the leaderboard but didn't really clinch her spot until she birdied the last two holes.
Last season, Nina also qualified for states as the WPIAL individual bronze medalist. Not happy with how she played at the PIAA championship last year, she is determined to avenge her results, saying they were very disappointing. With more experience playing in high school and in many larger stage tournaments over the years in the fall, spring, and summer, Nina is now better equipped to end her Foxes' career on her own terms.
Coach Tim Lang describes Nina as a player. "She is an excellent player with a good head on her shoulders, and she knows how to come back from adversity and remain calm under pressure."
A Path Well-Traveled
The scenic trip through the Laurel Highlands to York is now a familiar one for Nina, as are the links at Heritage Hills. She says, "The course is definitely a bit hilly and tricky, but it is manageable. I'm hoping to get a better game plan this year."
That strategy includes a tournament-sponsored practice round, but she's hoping to get in at least one more on her own. Coach Lang says he will concentrate his time with her on the greens by going over the holes that are difficult or gave her a hard time last season. When she does finally step on the greens for the individual championship, she plans to keep her typical style intact.
"I think I'm a conservative golfer," Nina says. "I don't tend to go for pins; I like to hit the center of the green. There are times where I'll take aggressive lines if I am comfortable with them, but not very often."
"I give her a lot of credit for how she can steady herself mentally and keep chipping away," adds Coach Lang. "She is really a very special player, and if she continues as she has done all season, I think she will get the results she is looking for."