When Carlie Barnett was a freshman, she was in the starting lineup as a center back for the varsity soccer team. It was a position and responsibility that is not easy in tough WPIAL Class 4A, but Coach Peter Torres had enough faith in her abilities to assign her that role – and it has paid off. Now a senior, Carlie is one of the most outstanding players on the team, and, fittingly, was voted as a team captain for her experience, leadership, and calm, positive demeanor.
Coach Torres adds some insights about his player who was named to the all-section and all-WPIAL rosters last season.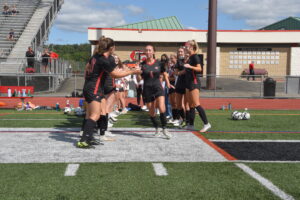 "Carlie is a tactically strong center defender and organizes well in the zonal defending system that we play," says the coach. "She understands the concepts of pressure and cover, both essential to the position. This year, she is reading the opponents better than ever by anticipating their passes and runs and adjusting accordingly. She is playing at a really high level."
As the anchor for the defense, Carlie admits there can be some difficult situations to overcome to keep opponents out of the net. She says, "I definitely have felt pressure, but I feel like if you keep everyone relaxed and calm, that kind of filters over to everyone. I think one of the biggest things people recognize in me is my communication skills and I try to calm down everyone and be a steady influence on everyone. As a team, I think our strength is that we have a good mentality, and we're a very positive program. We are always supporting each other and trying to hype each other up."
Showing a great level of maturity, Carlie also identifies the importance of what some people overlook: body language. She has talked to her teammates about how stances, facial expressions, and gestures are big clues as to their level of confidence.
Being a good communicator is only one of Carlie's distinguishable assets. She has practiced her cuts with the ball a lot, and it has resulted in simple, clean, and quick movements. The student-athlete also has an innate ability to see the future, so to speak.
"I play pretty intuitively," she says. "I definitely know what my next step will be even before I get the ball."
If she makes a mistake, Carlie states, "I learned at a pretty young age not to dwell on what I just did; it's what you do afterward that counts."
A Little Help from Her Friends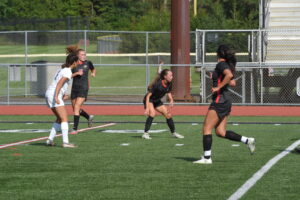 The senior honors student might have the most experience playing defense, but she is very quick to give credit to her fellow players for their contributions.  She characterizes the defensive unit as having honest communication and good movement, and being stacked with quality players who have really stepped up this year.
"Anna Troutman (sophomore defender) started the year at outside back for a bit, but then transitioned to center back and has stayed there ever since. I just love her," says Carlie, a native of California who would like to return there one day. "(Junior) Molly (McNaughton), our goalie, has big, strong, and powerful kicks and punts. And, (junior midfielder) Mikayla (Mulholland) is a great player who is composed all the time on the ball.
"I also want to give a shout-out to our coaches. We all have really good relationships with them, and all of their support is the reason our program is the way it is."
More to Carlie Than Soccer
More than just a soccer player, Carlie also is a runner on the indoor and outdoor track teams, where she has principally been a sprinter and a member of relay teams. She would like to add some distance events too.
Carlie also is the editor of the school's award-winning literary magazine, "Tapestry," and has had some of her own poetry and photographs published in past issues. She also is a member of the National Honor Society and serves as the senior officer for Home Lost, an extracurricular after-school club whose members turn old T-shirts into blankets for the homeless.
Carlie also is active in the Fox Chapel Area youth soccer program, where she serves as one of a very few female referees.
It's fair to say that Carlie's most important days as a role model still lie ahead of her. With abundant talent in so many different areas, combined with her contagious personality, Carlie is destined for much-continued success on whatever path she chooses in the future.