It's been quite a week for the Foxes boys tennis team, with the week culminating in a colossal win over last year's team champions, Shady Side Academy, 5-0, and winning the WPIAL Class 3A team crown for the fifth time in six seasons. Getting to the championship finals was a hard-fought effort for the sixth-ranked team and included prior big upsets over North Allegheny, 3-2, and then Mt. Lebanon, 3-2. And they did it without the "stars" that often flank many top teams' rosters.
"It's rare for a team to advance so far without having any individual section champions," says coach Alex Slezak. "Many of the best teams have individuals who are bigger than their programs, but our team is bigger than any one individual, and that's how we have won. I've said from the beginning of the season that our team does not have too much difference in talent among the players. They all have really grown from the beginning of the season and are playing fantastic tennis against very good opponents. I am super proud of them."
That statement takes on even more meaning when considering that none of the team members had ever played tennis at levels higher than the equivalent of the WPIAL quarterfinals until this season. But the athletes came into the playoffs with a lot of energy and a high standard to win, as Foxes teams have in the past.
"Coming into the playoffs as the sixth seed, many would be surprised to see we have made it this far, but I am not at all surprised," says singles junior player Cooper Friday, who came from behind to beat Shady Side's Sam Bitzer, 1-6, 6-4, 7-6. "We have worked extremely hard this season and have a deep roster of young, energetic players. Being a part of the Fox Chapel Area varsity team for three years, and finally getting a stab at a WPIAL championship, is a great feeling. I wouldn't want to share this playoff journey with any other group of boys."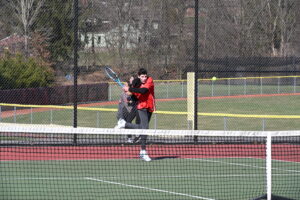 Also in singles, Foxes' sophomore Will Siegel defeated David Mnuskin, 6-2, 4-6, 6-3. Coach Slezak says of the top singles player, "Will played a fantastic three-setter against a fierce competitor and came out on top."
Additionally, junior Ananth Kashyap defeated Shady Side's Chase Hartman, 7-6, 6-2.
Finding Their Confidence
It certainly appears as though the Foxes are peaking at exactly the right time. Even though they went into the WPIAL finals with a 12-1 record, they were largely overlooked as serious contenders. So, what has made the difference now? And, how did they come back after losing the most important match of the regular season to Shady Side, 4-1, and having to settle for the runner-up section title? Coach Slezak quickly pinpoints the answer.
"Our wins against North Allegheny and Mt. Lebanon gave them the confidence to know they can do it," he says.
However, the coach isn't necessarily giving himself enough credit for the role he has played in the program's success over the years. He says good players come to him, but his approach to the mental part of the game is very effective.
For example, take what he said to player Ananth during the semifinal match versus North Allegheny. When Ananth came onto the court as the last one to compete for the Foxes, the score was tied at 2-2, and he knew the team's outcome depended upon him. Ananth was very nervous and had never played at such a high level in such an intense atmosphere. He had some very mentally grueling games in that matchup and coach Slezak knew it was time to impart some advice to settle him down.
"Ananth is really smart in math," says coach Slezak, "so I said to him, 'If you were in the finals of a math competition, what would you do?'" And, he said, 'I'd go in there, solve the problem, and just do it.'" And that's exactly what he did to clinch his last set and got the win for his team that advanced them to the WPIAL finals.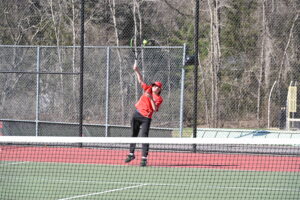 According to coach Slezak, first flight doubles partners Travis Malone, a sophomore, and freshman Mason Friday, and second team duo of junior Jack Delaney and sophomore Ben Hallman, have played the entire tournament just as he wanted, especially during the finals held May 10 at Washington & Jefferson College in Washington, Pa.
"Jack and Ben's win was especially crucial for us," says their coach, "and Travis and Mason have proven to be one of the best doubles teams in the WPIAL."
Mason and Travis defeated Shady Side's Sai Chaudry and Siddarth Ramineni, 6-4, 6-2, and Jack and Ben won 7-5, 6-4 over Tommy Certo and Rob Brunini.
Jack attributes his and Ben's success to having a good strategy and IQ on the court. "Last year, we were very young and had a heartbreaking playoff loss, so we knew what we had to work on for this season."
Ben adds, "Having good communication with Jack and knowing what to do in the moment is what I find to be one of the biggest parts to having success as a doubles team."
Unexpected, But Very Welcome Results
There isn't a coach around who doesn't go into a season without saying their goal is to win a WPIAL championship, but considering how young this year's team is, and that none of his players use the offseason to play the junior pro circuit, coach Slezak was impressed with his players' will to win. Even more impressive is how they overcame highly unusual weather conditions, the worst that the coach has ever seen, that limited the team to 11 regular season matches, instead of the normal 15, and only three dedicated practices all season. Sometimes, they even had mini practices following competitions just to get extra court time.
"The whole season surprised me," he says. "But all of the players laid it all out on the court, and I couldn't be more proud of them."
---
The Foxes now head to Hershey Pa., for the May 17 first round of the PIAA playoffs. They will face the winner of the Pittsburgh City League.