If you ask the members of the Fox Chapel Area boys lacrosse team about this season, they say they have no doubt that their squad has the potential to be a leader in WPIAL Class 3A Section 2. With competency at all positions, great depth on defense, and almost every varsity starter from last year returning, it's easy to see why they have legitimate reasons for their optimism.
The team's core includes many veteran returners, including senior attackers Tommy Healy and JP Walsh; midfielders Ethan Napolitan, John Tramontina, and Alex Zatman; long stick midfielder Andy Scott; defenders Will Cooper and Max Johnson; and goalie Wilson Runnette.
"The main talk among the seniors is about winning a WPIAL championship," says John, a four-year member of the team. "It would be our last 'hurrah,' as we are closing our high school careers. Although the journey to the finals will always be tough, I believe we have a strong enough core that will help us to conquer anything."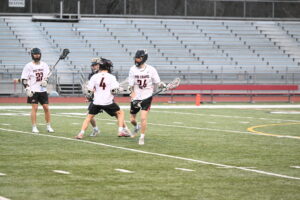 Another of the team's assets are the players who starred on the Foxes club ice hockey team, which went undefeated in the regular season, won the Class A Northeast Division of the Pennsylvania Interscholastic Hockey League (PIHL) and qualified for the Penguins Cup playoffs. Their stick handling skills, plus the fact they have played together for many years in both sports, should be a key to their success. One of those players is Tommy Healy who, according to coach Kevin DeVinney, completely changes the dynamic of the team when he's on the field.
"He is an exceptional ice hockey player, and, undoubtedly, one of the best lacrosse players in the league as well," says coach DeVinney. "He was a Pennsylvania Interscholastic Hockey League (PIHL) player of the month in February, and Tommy, Danny Downey, and Nash Wedner were all voted to the PIHL all-star team. All of them will be relied upon as they transfer their experience on the ice to the lacrosse field. Senior Ryan Zatman is another hockey player who will be depended upon at long stick midfield."
Ironically, the 2022 lacrosse team's first section game this season was against Norwin, the team that eliminated the hockey team in the Penguins Cup tournament. Whether it was a need for retaliation, just plain talent, or a combination of both, the Foxes overwhelmed the Knights in a 16-1 win.
Although goalie Wilson had an easy job against Norwin, coach DeVinney says he is the kind of goalie who can steal a win with his play. Wilson's good field vision usually enables him to dictate the defensive sets, along with help from the assistant coaches.
"Wilson is our eyes and ears on the field, and we often ask him what he's seeing out there from his perspective," says the coach DeVinney. "We can then coordinate the defense based upon what the opposition is showing offensively. He's a tremendous keeper, and we've been fortunate to have quality players at that position."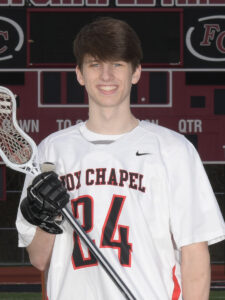 John Tramontina also says that energy and urgency are just as important as good stick skills.
"What I value, and what my previous coaches valued most, is the hard work and intensity that I contribute to every single game and practice. I believe in the saying 'hard work beats talent when talent fails to work hard,' and if we all get this message across, the sky is the limit for us. I just think to reach our goals, we can't overthink everything and just play our game. I have the utmost confidence that we won't be leaving in the first round of the playoffs a second year in a row."
Other players who will be counted on to contribute this season are seniors Nolan Adams, Owen Hershey, Brendan Kost, and Tommy Scott; juniors Roman Mason and Owen Patel; and sophomores Nolan Childs, Owen Cooper, Rocco Didomenico, Ryan Napolitan, and Jake Siddons.
The Foxes headed into spring break with a 3-3 overall record that included two close games with one-goal losses to Peters Township and Upper St. Clair. They will battle section rivals Central Catholic and Butler when they return to action the week of April 18.