A little more than 30 years ago, on a cold and blustery day in Shippensburg, Pennsylvania, a special group of young men accomplished something that no other Fox Chapel Area High School soccer team before or after them has achieved. In a David versus Goliath matchup on November 17, 1990, the Foxes beat Downingtown High School, a perennial powerhouse and the reigning state champs, 1-0, and became the 1990 PIAA Class AAA boys soccer champions. It was a magical day sweetened by the fact that the players had defeated the top-ranked team in the country.
Besides boasting an incredible amount of talent, Fox Chapel Area also had some of the most legendary men in Pennsylvania soccer history leading the team. Jim Perry, who fronted the team for 19 years, and originated the Fox Chapel Area Youth Soccer program, was the head coach. The late Ed Boyle, often described as the patriarch of Fox Chapel Area soccer for founding the high school boys team, was the program's first varsity coach and served for 10 years. In the late 70s, he returned as an assistant to help his friend Jim.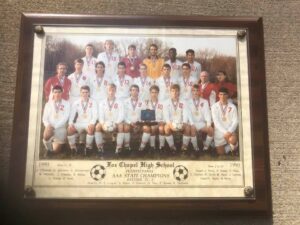 Since Coach Perry took over the program in 1971, he has kept in touch with hundreds of players and remembers hundreds of games. In his retirement, he has reconnected with many of his student-athletes through social media and gets a kick out of talking about the "old days," and learning about what they are doing now. So, as the historic date grew close, Mr. Perry posted a Facebook message to commemorate the 30th anniversary of that victory and the response was tremendous. Former longtime center midfield partners Jason Lennon and Jason O'Malley thought it would be a great idea to reminisce, so they set up a Zoom reunion. Alum players from Arkansas, California, Georgia, Louisiana, North Carolina, New York, Pennsylvania, and Utah joined in on the conversation.
"The Zoom meeting was great," says Coach Perry. "We stayed on for two hours, with most of the conversation just reminiscing and telling jokes, and there was a lot of laughing."
Some of the players logging on were even wearing their championship T-shirts. Elverson Brown, who scored the winning goal, said on Facebook, "(It was) certainly a special day. I'm wearing my T-shirt proudly."
Scott Cindrich, the 1990 team goalkeeper says, "It was great to see and hear everyone. It's been a long time, and we are spread out all over the country. But we picked up right where we left off the last time we got together."
That would have been five years ago on the 25th anniversary of the win when the entire team was honored at the Fox Chapel Area Sports Hall of Fame banquet.
Against All Odds
"We knew we had a very good team that season," says Mr. Perry, who has been inducted into just about every local, regional, and state soccer hall of fame. "Two of the juniors started as freshmen and four of the seniors started as sophomores. The state championship was always our goal from the beginning."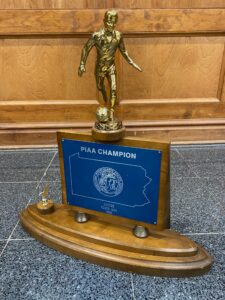 Yet, for as great of a team as they were, the Foxes did not win the WPIAL crown that year. They lost to Moon Township in the playoff semifinals, but did come back and beat them in a revenge match. Still, the loss was a huge disappointment.
"That really made us hungry," says senior midfielder and co-captain Jason O'Malley.
As such, the team went into the state tournament full of fire and with the confidence that they would win the title. But, to put the enormity of the odds of the Foxes winning into proper perspective, it's helpful to understand the student population of both schools. Downingtown, located less than an hour from Philadelphia, was so large that the following year, in 1991, it was separated into two districts, Downingtown East and Downingtown West, which remain intact today. At that time, Fox Chapel Area High School had less than 900 students.
Jason O'Malley remembers the Foxes as being extremely fast, with many of the players having a lot of speed on the field. "We were perhaps more physical and fit than possessing a lot of finesse," he says. "I don't think they could keep up with us," he recalls.
Jason Lennon, who has watched the game on YouTube a few times, says, "It's still amazing to see our overwhelming time of possession and good fundamentals in building plays. We were truly a team."
Scott Cindrich adds, "We had a lot of talent, and confidence was not something we lacked. The cohesiveness of the team gave us a distinct advantage."
Jason O'Malley sums up the day succinctly. "Thirty years ago, we stepped on the field as the third-place team from the WPIAL and left as state champions."
Coach Perry recalls the pride the entire community felt after winning. The Sharpsburg Council and the Allegheny County Commissioners brought them into their chambers to congratulate them. The high school principal arranged a school assembly and afterward encouraged every single student at the rally to shake hands with the team members.
"He told them that they might not ever get a chance again to congratulate their peers for such a great achievement," says Coach Perry. (In 1990, the only other squad from Fox Chapel Area High School to win a state championship was 13 years earlier when the 1977 boys basketball team won the state title.)
"What a day that was!" recalls Chip Zimmerman, who was a co-captain, senior forward, and regional all-American. "It (the memory) still brings tears to my eyes."
The Foxes finished as the fifth-ranked boys soccer team in the country that year.
Postseason Awards
At the end of the season, senior defender and co-captain Brad Wilson was named the Pennsylvania Gatorade Player of the Year and a regional all-American. Senior co-captain and midfield Marco Patitucci was named a regional all-American as was senior co-captain Chip Zimmerman. The following year, two underclassmen who played on the 1990 team were named regional all-Americans – defender Terry Piper and forward Reed Smith.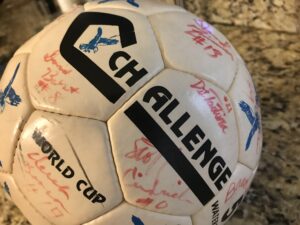 The seniors that year were Derek Boorn (#19 defender), Scott Cindrich (#1 keeper), Jason Lennon (#16 midfielder), Jason O'Malley (#10 co-captain, midfielder), Marco Patitucci (#9 forward, co-captain, regional all-American), Brad Wilson (#12 defender, co-captain, regional all-American, Pennsylvania Gatorade Player of the Year), and Chip Zimmerman (#6 co-captain, forward, regional All-American).
The other members of the state champion team were juniors David Babst (#8 forward), Elverson Brown (#20 forward), Charley Hudak (#4 midfielder), Charley Johnston (#3 midfielder), Eric Lingner-deceased (#17 defender), Joe O'Donnell (#2 midfielder), Terry Piper (defender), Bill Siple (#7 defender), Reid Smith (#14 forward), Mike Szott (#15 defender), Radit "Dit" Tantisara (# 21 midfielder), Jeff Thor-deceased (goalkeeper), and Dave Zimmer (#13 midfielder).
Over the course of Mr. Perry's tenure, he coached 60 WPIAL all-stars, 12 all-state players, one national and five regional all-Americans, and two Gatorade Pennsylvania players of the year. He also was a coach for the Olympic Development Program for 20 years. 
Not everyone on the championship team could be located, but here are the whereabouts and some updates of those who were.
Of the seniors on the team, Chip Babst, Scott Cindrich, Jason Lennon, Jason O'Malley, and Marco Patitucci all played college soccer.
David Babst returned to Pittsburgh after living in Chicago and the greater San Francisco area. He is the president and co-founder of DNA Business Consulting LLC.
Elverson Brown lives in Charlotte, North Carolina, and is a wealth management banking specialist with Merrill Lynch.
Scott Cindrich still lives in the Pittsburgh area and is an attorney for UPMC.
Charley Hudak is a well-known athletic footwear designer and lecturer who splits his time between New York and San Diego. He was even referred to as "sneaker nerd royalty" in a trade publication.
Jason Lennon is a sales director for Vocera Communications and resides in Manhattan Beach, California. He still plays competitive soccer and frequently travels internationally.
Joe O'Donnell went to the University of Maryland, where he was a kicker for the football team and, at last count, still holds the record as the school's most accurate kicker. He also played in Europe for a while. Joe now lives in Alabama and works for Hologic.
Jason O'Malley lives outside of San Francisco and works in finance as an IT specialist at Wells Fargo.
Marco Patitucci was a first-round draft pick in the National Professional Soccer League and was selected to play for the Harrisburg Heat, but chose not to play. He now lives in Arkansas where he works in supply chain management.
Terry Piper still lives in the Pittsburgh area and owns a construction company.
Reed Smith is an attorney in Boise, Idaho. He has a nephew and two nieces who currently play soccer for the Foxes.
Mike Szott lives in the Chapel Hill area of North Carolina and teaches at Duke School.
Radit "Dit" Tantisira lives in Menlo Park, California, where he is a senior manager, program management at Intuitive Surgical.
Brad Wilson went on to play baseball at Louisiana State University and won a national championship with the team. He resides in the Baton Rouge area and serves as the associate director of facilities and operations at the LSU recreational complex.
Dave Zimmer is the global head of product and innovation at Travelport and resides in London.
Chip Zimmerman played soccer and golf in college and now is the head golf professional at Hidden Creek Country Club in Reston, Virginia. 
The "Where Are They Now" list includes the latest information available. If any readers know the whereabouts of any other members of the 1990 team, Coach Perry would enjoy hearing from them. He can be reached through Facebook or at [email protected]