Kevin Devinney is in the midst of his second year as head coach of boys' lacrosse, and his team is again vying for another WPIAL playoff appearance under his leadership.
Their success is partly due to a solid group of core players who are extremely dedicated to the program, but Coach Devinney's influence cannot be overlooked. In a short amount of time, he has taken his team to the WPIAL playoffs twice and made his mark with his calm presence. His emphasis on two concepts that, at first, might seem conflicting ­– self-reliance and teamwork – are a key to their success.
"I try to challenge our guys to reach their own personal highest level of play," explains Coach Devinney, who works during the day as a laboratory supervisor at the Institute for Transfusional Medicine in Oakland. "I want them to be able to think for themselves and make solid decision on their own. Otherwise, they won't be able to react to new game situations that might arise."
"This year we've been stressing just taking what the game presents, be it an odd-man rush, an over-aggressive defender, or an opportunity to double the ball on defense. Smart players use these opportunities to their advantage."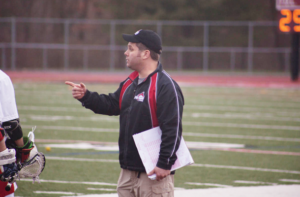 He also emphasizes the importance of playing as a united group and hopes they will take those lessons and apply them to real life, both now and after high school.
"I think having friendships among teammates is very important for the success of the team," says the former player who still remains good friends with his own high school lacrosse teammates. "When you're close with the guys on the team, you know that they'll have your back on and off the field, so you want to do the same for them. We really value personal relationships and try to stress playing together and playing for each other."
Athletic director Mike O'Brien is pleased with how the hardworking coach breaks down the game for players in practices and has observed how well the players relate to him.
"He really cares about his athletes and they have performed well for him," says the athletic director. "He had a tough job coming into a program that graduated a number of great players over the past few years. But I've seen the underclassmen improve with experience and some of them are very talented."
Growing the team is something high on Coach Devinney's to-do list.
"We're always looking to recruit more players," says the coach, who was a multi-sport athlete before he discovered lacrosse. "I just want to keep the strong lacrosse tradition going by putting together a competitive team year in and year out."
So far, so good.