There are only a couple of things that rival John Alerich's love for football ­– his family and his passion for helping individuals with special needs. A 15-year assistant with the Fox Chapel Area football program, Coach Alerich's players say he is tough, with high expectations both on the field and in the weight room, where he serves as an assistant for the high school's strength and conditioning program. But his heart is as big as they come.
This year, Coach Alerich, a 2000 alum and former student-athlete, enthusiastically brought several opportunities to help others to the attention of the players on the high school team. He proudly says, "I was overwhelmed at the response."
Senior quarterback Shane Susnak says, "Coach Alerich is a demanding coach, but will always go the extra mile for you. Some of the things he did with the team over the summer were getting a group together to play softball against a Special Olympics team and, the best one for me was going to see B'Man.'"
Otherwise known as William Carney III, B'Man (for Bill) is a local 14 year old with cerebral palsy who has very limited use of his muscles. He's gained some notoriety in the Fox Chapel Area and beyond – he has more than 1,000 friends" on his Facebook page – through his evening visits to Fox Chapel Plaza, where passing cars "Beep for B'Man," much to his delight.
Head coach Tom Loughran says his assistant coach been an asset to the program in many ways. "John is great working with our running backs, is very in tune with what is going on in the lives of the kids, and is very connected to them. He has a very welcoming attitude, and his work in the community is a tribute to him and our program in general."
An Early Calling
Even when John was only 8 or 9 years old, he seemed destined to become a leader and coach. He says, "This may sound weird, but I used to keep a notebook and made my friends learn the plays I made up. And then we'd go out and use them. I've loved football from day one and always enjoyed the team camaraderie."
His time with the district's program includes 10 years as an assistant at Dorseyville Middle School and five years with the high school, where he currently works with the running backs and, on Friday night games, with the quarterback.
"My father's sister has the mental capacity of a small child," says John, who lettered for the Foxes in both football and track and field. "I was around her a lot when I was young and just dived in to do whatever I could to help her. Also, my best friend's brother has Down's syndrome, and the three of us always hung out together, so I was used to being in situations where others needed help. Then, when I was in high school, I was a student aid for kids who needed extra attention. It's a passion that never went away."
Gifts for All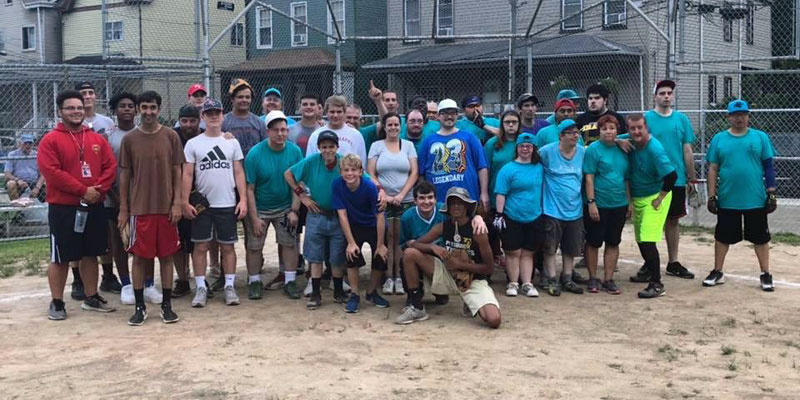 This summer, after talking with someone involved with a Special Olympics, Coach Alerich learned about a softball team that plays in Sharpsburg that was having trouble filling their schedule. He volunteered to see what he could do to get together a group of football players who would be interested in playing.
"We played about four games and 15 to 20 guys signed up for each game after working hard during the day at summer training," he says. "We played four games and our guys were really excited about it. They would actually ask me throughout the week when we had a game scheduled. I had to start taking them on a seniority basis because so many of them wanted to play. It made it all worthwhile just seeing how much fun everyone had. The Special Olympics team is really good; I told our guys they need to stick with football!"
It was in August that Coach Alerich and some of the players paid a visit to B-Man.
"When John first approached me and asked if B might like some of the players to come down to the plaza to visit with him, I wasn't quite sure what to expect," says Bethany Carney, B'Man's mother. "It ended up being so much more than that. At first, I could see that some of the guys were uncomfortable and didn't quite know what to do or say. Then, they formed a ring around B and started to throw small footballs balls back and forth. At that point, he was one of the guys, which is what any teenager hopes for, especially him. That day was the most B has done physically in a long, long time. It was amazing to see the dynamics change between him and the team, and the acceptance and pure happiness on everyone's faces."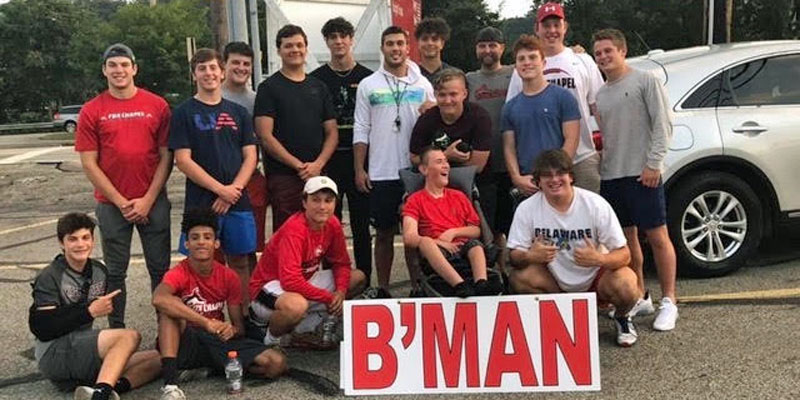 She continues, "B and other special needs kids just really want to do the things other teenagers do. So, when the players treated him like he was one of them, it was the best gift our family could have received. A simple thing like that turned into a life-changing event for a lot of us. Sometimes people are apprehensive about being around someone with special needs, but this was such a metamorphosis in these guy; I could actually see the change in their faces right in front of me. It was magical."
There was also a gift that day for B'Man's twin, Ross. He really wanted to play sports but is unable to do so due to massive surgeries to his right shoulder and arm. Once Coach Alerich learned that, he went to Athletic Director Mike O'Brien, who invited Ross to join the team as their end zone videographer. He also assists certified athletic trainer John Panos.
"I've tried to instill in my players that they are very blessed and not everyone can do what they do," says the coach. "Being in a position to help others is a good thing, and something you should always want to do. It's truly moving when you see how much the kids get out of this – all of them. It's rewarding to see that they like doing these things as much as I do."
Those experiences might just be the most important lessons of all that this unique football coach passes on to his players. Seasons come and go, and games are won and lost, but it's always a victory when you have a chance to help someone else.