When David Papich (second from right in photo) was a student at Fox Chapel Area High School, the former football and track scholar-athlete was known as quiet, highly-disciplined, and very methodical in his approach, whether it was on the field or off.
Things haven't changed much in that respect, other than Dave is a lot more vocal these days as one of the WPIAL's most highly-respected, young football officials.
Dave's parlay from athlete to referee began when he was a sophomore at Virginia Tech. While there, he refereed at local youth, middle school, and high school games, and also officiated at the university's intramural football, soccer, softball, and basketball games. After only one year on the job, Dave was named referee of the year for Virginia Tech's intramural program, and the following year he was appointed the intramural sports supervisor.
"It was a good way to make money when I was in college and I really liked it. It was also a great way to still get some exercise," says Dave. "When I moved back to Pittsburgh in 2011, I started reffing again, but because of my job, I just do football now." (Dave's day job is a highly confidential one at Bettis Atomic Power Laboratory in West Mifflin, Pennsylvania.)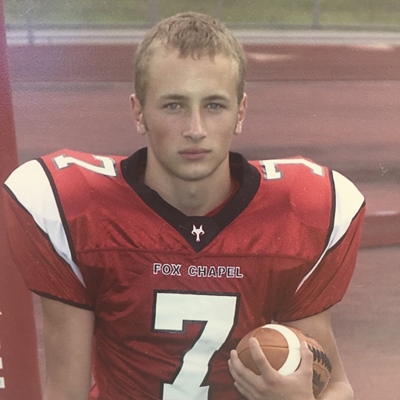 He's officiated WPIAL football games for six seasons now. During Dave's first two years, he was a back judge, and then was promoted to a different crew and became the head linesman. This year, Dave will take over as crew chief at WPIAL Class 2A and 3A games.
He also had the distinction of being named to officiate at the 2017 WPIAL Class 4A championship held at Heinz Field. He says it's easy to identify him on the field because, "I'm the guy with the white hat… the one who gets yelled at the most."
While Dave admits overly exuberant fans can give officials some grief, he hasn't let that part of the job phase him too much. In fact, he recently applied for and was approved as one of the newest officials for NCAA Division III football. He's been assigned to the Presidents Athletic Conference (PAC) that includes, among others, Allegheny College, Carnegie Mellon University, Grove City College, and Washington and Jefferson College.
In addition to having several years' experience officiating at high school games, rising to the college level had some stiff requirements. Dave explains, "You have to have good evaluations, do some interviews, prove you can handle different types of situations, and be recommended by officials higher than you."
While he's looking forward to getting back on the field in August, Dave is enjoying the summer months. An avid baseball fan, he's been traveling as much as he can to major league venues and also has visited some of the country's national parks.
Ironically, Dave adds, "The Pirates have always been my favorite. I liked them even back when they had 20 straight losing seasons!"