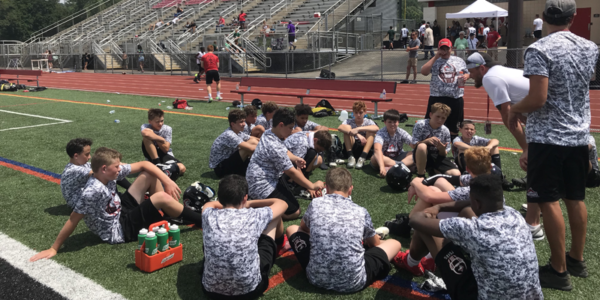 The Foxes' high school and middle school football teams joined forces on a recent Saturday to host a 7-on-7 tournament held exclusively for seventh and eighth graders. Nearly 175 players and coaches from six area schools participated. Teams attending the event were host Dorseyville Middle School, and middle schools from the Apollo-Ridge, Baldwin, Gateway, Laurel, and Penn Hills school districts. Former Foxes' and Penn State star player Miles Dieffenbach was the featured speaker.
Event organizer and DMS head football coach Josh Duso explained why the tournament was so important.
"There are a lot of 7-on-7 camps for older players, but it's very rare to have youth tournaments," said Coach Duso. "These tournaments are important learning opportunities for players to gain experience in situations that they don't necessarily get in practice but will face in games. When I first told our players about the camp, they were very excited and anxious to pick their teams and to begin practicing. We have never had so many kids turn out for voluntary summer practices!"
The coach added, "The kids had a blast. They really liked the opportunity to play in a 7-on-7 tournament and they now have a better understanding of what we need to do to improve. They also learned the importance of being at practice and learning."
Varsity head coach Tom Loughran, who is one away for his 200th career win, fully supported the tournament. His players from all grades of the high school's varsity team volunteered their time as referees and pitched in wherever they were needed.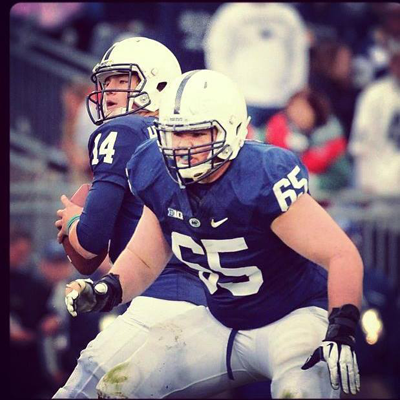 Miles, a 2010 graduate and four-year starter for the Foxes, ended the day with an inspirational speech. In high school, Miles was named to the Pittsburgh Post-Gazette Fab 22, was on the winning squad at the Under Armour All-America game, and was selected as first-team All-State. Miles also was named a high school All-American and was ranked as the top center in the country by ESPNU. As an offensive lineman at Penn State, Miles was named a team captain, received the Frank Patrick Total Commitment Award, and was a Big-Ten all-academic honoree. He joined the Pittsburgh Steelers as an undrafted free agent in 2014 before retiring from the sport and entering the workforce.
His message to the players was about the lessons he learned from the sport and the importance of friendships.
"Football is hard, very hard, but it teaches you that nothing is easy and how to deal with adversity," said Miles, who was diagnosed with cancer a few years ago and was given a 50-50 chance for survival. "When I got the diagnosis, I went back to my roots of football to face the disease. The first people at my bedside, besides my mom and dad, were my high school and college teammates. Without their support and drawing from what I learned through football, I don't know if I could have dealt with it. What I knew from football was to take it one day at a time and that even if there were things that were out of my control, what I could control was my attitude. Ninety percent of winning is your attitude and how hard you are willing to work.
"During the time you spend together as a team, you are molding a bond and forming friendships that can last a lifetime. Just work together and come together as a team to overcome adversity. And believe in yourself. When I was your age, I had no idea I would eventually be able to play in college, or on an NFL team. But I believed in myself, worked hard, and I ended up doing all of those things."