The Foxes' girls' cross country team finished third out of 36 female Class AAA teams that competed at the annual PIAA Foundation Cross Country Invitational held Saturday, September 22, in Hershey, Pennsylvania.
Senior Sarena Seeger and junior Grace Sisson finished third and fourth respectively out of a field of 250 girls in Class AAA. Junior Brooke Krally also medaled with a 16h-place finish. A fourth member of the reigning state champion team, senior Annika Urban, was 36th.
Sarena got a really fast start in the race, but admits the hills really pushed her.
"I probably could have done a little better, but I was happy with my start and my finish is the best part of my race" she says. "It's a really good meet, gives you a chance to run the course before the state championship, and is a nice introduction to the course for the freshmen."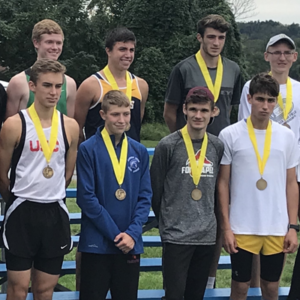 For the boys, junior Christian Fitch medaled in 17th place, which was a little disappointing, but he did it while struggling with a knee injury.
"Overall, the kids raced hard, as they always do," says Coach Tom Moul. "We have much work to do in the next couple of weeks, and hopefully that will help us to improve as championship season approaches."
Looking ahead to the state meet, Sarena adds, "We definitely have a lot of big workouts ahead of us!"