By: Marty Stewart, Friday, April 27, 2018, TRIB-LIVE
There was a feeling of deja vu at Friday's WPIAL Class AAA and AA boys tennis team championships at Shady Side Academy.
In Class AA, Sewickley Academy claimed its 15th straight team championship with a 4-1 win over Indiana, while in Class AAA, Fox Chapel won its third straight WPIAL title with a 5-0 win over Shady Side Academy.
Sewickley Academy was down 1-0 before the first serve was tossed.
"We had a starter who had to attend an out-of-state wedding," SA coach Whitney Snyder said. "If we'd have moved somebody up to fill that slot, we would have had to go with that lineup the rest of the way. In fairness to that player, we decided to default that match and start out down 1-0."
That one point was all Indiana could muster. At first singles, Sewickley Academy's Arjan Bedi defeated Indiana's Zachary Palko, 6-2, 7-5. At second singles, SA's Nishant Purewal swept Joey Bujdos, 7-5, 6-1, and Will Nocito cruised to a 6-1, 6-1 win over Giaco Gentile at third singles. In the lone doubles match, SA's Cole Luther and Will Stevenson rolled to a 6-0, 6-1 win over Evan Ray and Hammad Affan.
"We had four starters graduate from last year's team," Snyder said. "All of this year's starters were either doubles players or JV players last year. We had some question marks entering the season, but I couldn't be prouder of how the team responded.
"We've adapted well all year, and the team responded to their roles well. We showed tremendous poise against an Indiana team that has a great program."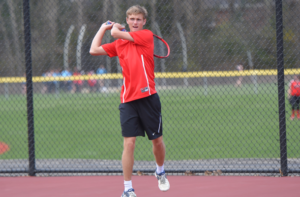 In the Class AAA final, Fox Chapel's Robby Shymansky got the ball rolling at first singles with a 6-0, 6-1 win over SSA's Naman Dua.
"I felt that my entire game was strong today," Shymansky said. "I wanted to control the points, and I was able to do that."
At first doubles, Jay Kashap and Kurran Singh defeated Clayton Guyaux and Alex Reuter, 7-5, 6-1, while at second doubles, Karsten Lagerquist and Brandon Wei swept Russell Erb and Cole Hartman, 6-4, 6-2.
"Brandon and I have been playing doubles together for about eight years, and we work well together," Lagerquist said.
Wei agreed, adding: "We have a good chemistry out on the court. We know our strategy going into a match, and we're good at adapting when we have to."
Their doubles win clinched the title for the Foxes. Ironically, the last team to win three straight Class AAA championships was Shady Side Academy in 2012-14.
In the other singles matches, FC's Jared Nord beat Colin Gramley, 6-4, 4-6, 6-4, and Milo Baron swept SSA's Luke Uhlman, 6-1, 6-3.
"All I can say about today is that our team was extremely well prepared physically, mentally and emotionally for the battle with Shady Side," FC coach Alex Slezak said. "They did exactly what we trained to do and executed with precision and confidence. It was a joy to watch each of them win and contribute to our team's success. I also know each of them took time today to enjoy the moment of three-peating. The WPIAL team title is something they'll cherish and remember for the rest of their lives."
All four teams qualified for the PIAA tournament beginning May 15. South Park also advanced to the state tournament in Class AA after beating Quaker Valley, 3-2, in the consolation match.