It's been said that a team is only a good as its weakest link, but in the case of the Foxes' field hockey team, there never seems to be a time when they suffer from a lack of talent. Much of that skill starts at the top with the team's seven seniors, whose commitment to give 110 percent everyday has set the tone for this season.
"Every year there's a new personality to the team, but I'd say a good way to describe us is passionate, united, and hard-working," says co-captain Paige Ryan, a senior forward and Michigan State recruit. "We've had a lot going on this season with injuries, but I think the seniors have really anchored the team and brought us all together."
Going into the final week of the regular season, the team is undefeated in section 2 play, has the section title all but wrapped up for the sixth consecutive year, and is on the hunt for a three-peat WPIAL Class AAA championship.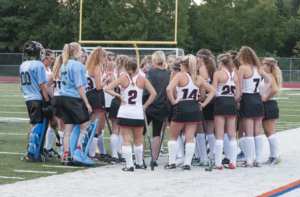 As she has done for the past nine years, Coach Jen McCrady, along with assistant Abby Dorrance, seems to have a knack for creatively using personnel and finding the exact positions and combinations to fill holes left by graduating seniors and sidelined players. But Coach McCrady credits the seniors for keeping the girls united through that process.
"Our seniors have really done a phenomenal job this season in carrying the team on their backs and keeping them focused," says Coach McCrady. "It always takes time to put the puzzle together for the season. Sometimes even filling just two positions requires a jumbling of the lineup to find the right combinations, but we found some great combinations early."
The immediate concern going into this year was filling the forward/midfield position held by senior co-captain Abby Pitcairn who suffered a season-ending injury while playing in China for the U.S. Junior National Field Hockey Team. Abby was named one of the top-10 field hockey players in the country and is a University of North Carolina recruit.
Coach McCrady praises Abby for having a positive influence from the sidelines and says, "She has been coming to almost every practice and game and her observations have been very insightful."
"We are really a close group and I think it's inspired everyone to have a team effort so we all can do well together," says senior Sally Dean. "At first it was hard losing Abby because of how talented she is and because she loves the game so much, but now we're all working harder as a team and we've been able to fill her spot by alternating a couple of different players to play her position."
"Each of our seniors adds something very special to our team," says Coach McCrady. "Besides being a solid defender, Sally is very much the 'mother hen' of the team and I often rely on her to help me get things done to organize the team. Molly Kelly, also one of our defenders, is one of the most upbeat people on the team. We can always count on her to lighten the mood if we've had a tough practice or a subpar performance. Grace Knepshield has been an absolute wall defensively and the quarterback of our defense. Paige is very dangerous and is creating plays all over the field by combining her speed and stick-work. Both Paige and Grace have led the team all year."
The coach continues her assessment of her seniors' strengths with, "I would describe Mia Jamiolkowski as our unsung hero. She is so consistent in the midfield and a huge part of our success. Her speed and ball control are amazing. And, forward Katie McIlroy is a finisher, understands how to work the sideline to our advantage, and does what it takes to put it in the cage."
So what will it take to win a third consecutive WPIAL title and advance far into the state playoffs?
An important step toward that goal has been Coach McCrady's determination to seek out opportunities to play some of the top squads in the state. She says, "They need to challenge themselves in order to be prepared for the really difficult games in the playoffs. We had a great experience in District 3 where we played some of the best teams in Pennsylvania, including Donegal, the number one-ranked team in the country. You can't get better than that experience. Although we had two losses, the girls learned that they can compete quite well at the highest levels."
"Everyone is doing a good job and we're in high spirits," adds Paige. "We have the ability, but the keys are to bring hard effort and discipline to the really hard games."
The team will get a chance to do just that during the upcoming WPIAL Class AAA playoffs.
"We don't' want to think too far ahead, but we do need to approach our last regular season games and the playoffs with a single-elimination mentality," stresses Coach McCrady. "If they continue to work to be better every day in practice, and approach each game as if it's their last, good things will happen. Having talent is one thing, but combining it with heart, desire, grit, and the other intangibles are what make champions."