Cross country had another gold medal showing over the weekend, this time at the Red, White, and Blue Invitational where approximately 250 runners representing 30 schools participated in each race.
The Foxes' girls' team finished in first place, with all five of the scoring runners on the medal stand: senior Caelan Miller, 4th; junior Annika Urban, 8th; junior Sarena Seeger, 9th; sophomore Grace Sisson, 13th; and Brooke Krally, 24th. Last year the girls' team finished fifth.
"We looked at all of the previews and we were mentioned, but it was really all about Oakland Catholic High School because they were predicted to win it," says Coach Tom Moul, who was pleased with the boys' results as well.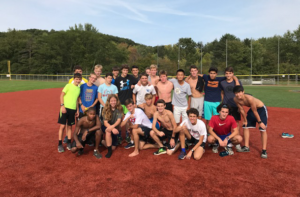 The boys' team finished seventh. Sophomore Christian Fitch took seventh place and senior John Folkerts was 23rd.
"Christian's seventh place finish was very good for a sophomore and John looked good too. Our ninth grade racers took third as a team, so that's encouraging news for the future," says Coach Moul.
Going into the meet, Coach Moul knew that with such a big field of contenders his runners needed to get off to a fast start. Caelan took his words at face value.
"I knew the course was going to be mostly flat," Caelan says of the course route that meandered through Schenley Park in Oakland. "I went really, really hard at first; I was flying. But when we got to a hill, I wasn't as mentally prepared as I normally am, so while I finished high, I know I can do better in future races. I wish I had started my kick earlier. It was a good experience, but I don't want to feel that way again!"
Competitive running is something Caelan has done since she was in middle school, and even before that, she ran for fun. She also was a great varsity soccer player in her freshman and sophomore years, but started to focus solely on running last year.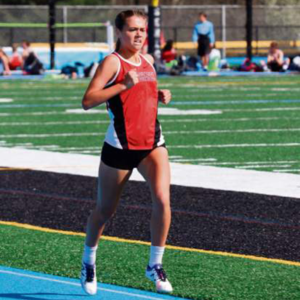 Once Caelan decided she wanted to pursue cross country and track in college, her workouts took on new meaning. "I'm following Coach Moul's suggestions for training mileage, and one thing I've been doing differently is really focusing on stretching and taking the full amount of time for cool downs."
Her attention to adequate recovery time is probably attributed to her awareness of and interest in physical therapy. She is currently in discussions with the Duquesne University coach and says she's automatically ruled out a number of other colleges that don't have programs in that discipline.
"I'm just really passionate about running," says Caelan, who already early in the season shaved down her best time of 19:52 from last year, to 18:32 now.
"I like the fact that you get out of it what you put in and the personal responsibility that goes with it. Whether you win or lose, it's totally on you and less about outside variables that are out of your control," she says.
"Caelan has been working harder than ever and is more focused than ever," observes Coach Moul. "She's elevated herself to be our top runner and has a refuse-to-lose attitude."
While the individual component of the sport appeals to her, the former WPIAL and PIAA qualifier is just as happy to be part of a team whose members are so dedicated to running.
"Our team is looking to come back even stronger this year than last year and a lot of us have improved," Caelan says.
That's setting a lofty goal because after posting a 6-1 season and finishing as the WPIAL championship runner-up last year, the girls' team also was the first in school history to qualify for the state meet.
Next up for both teams is the PIAA Foundation Invitational to be held Saturday, September 23, in Hershey, Pennsylvania. Last year, the event drew about 300 runners representing 44 schools.
"It' the same course that's used for the PIAA championships, so this a very good test for them," says Coach Moul. "We had two medalists last year, but we think we're capable of getting even better results this year."
You can bet that Caelan is one runner who is planning on doing just that.