Recent Fox Chapel Area graduate Meg McCrady is extremely excited to move on to Georgetown University this fall as a student-athlete, but what will remain here for many years to come is her extraordinary legacy in girls' lacrosse.
A three-year captain and two-time U.S. Lacrosse All-American, Meg is the most decorated girls' lacrosse player in Foxes' history, and she shattered just about every school record in the sport. She had a career total of 245 goals, 108 assists, and 353 points, and this year alone had 150 draw controls. One of her strengths is the draw, often a little-recognized position for its importance in winning games. Teams with the most draw controls usually win, as was demonstrated by the team's 21-2 record this season.
The midfielder, a self-described "book nerd," was an all-WPIAL and all-section pick four times, and was selected three times to the U.S. Lacrosse Women's Tournament Team. Meg's physicality, selfless play, and even her sense of humor played vital roles in the squad's progress throughout her four years, and also resulted in other individual and team honors besides hers.
This season, the girls were undefeated section champions. They also made the record book with their silver- medal finish at the WPIAL championship and their appearance at the PIAA playoffs, where they were the only remaining WPIAL team at the quarterfinal games. The Foxes' are now ranked eighth in the state, which is a tremendous accomplishment considering Central and Eastern Pennsylvania teams have always dominated the sport. In fact, no Western Pennsylvania girls' team has ever made it to the PIAA semifinals or the final championship match.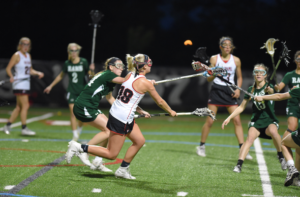 "What sets Meg apart as an athlete is her competitiveness, and that's something that can't be taught," comments girls' lacrosse head coach Katie Lundberg, who watched the all star develop from her freshman year – first as her assistant coach and then after taking the lead position this season. "She's not afraid to do whatever it takes to win a possession, a game, or a championship, but she does it in an unselfish manner and that is the mark of a consummate team player."
Coach Lundberg continues, "At her level, Meg could easily keep the ball to herself, especially in close games where you often will see some of the most talented players take control, but she is one of the most unselfish players I've ever seen. But because she is such a team player, it has allowed her teammates do their jobs and become better athletes. They have watched her and learned from her and, because of that, Meg has really set up our program for the future. No one can replace her."
Fox Chapel Area School District Director of Athletics Mike O'Brien adds, "Meg is one of the best athletes, male or female, to come out of this school. Her high character, tremendous leadership skills, and all-around athleticism have set standards that all players who follow her can strive for."
In addition to Meg's exceptional play in lacrosse, she also is highly decorated in field hockey and has played the sport since sixth grade. She served as a Foxes' team captain, was a four-time all-section pick, and was named all-WPIAL three times. In her four years on the team, she was a big contributor in their four section titles and two WPIAL championship gold medals.
******
Meg first picked up the game of lacrosse in fourth grade, and by the time she was 12, she was accepted into the elite TLC club lacrosse program out of Baltimore, which has produced some of the NCAA's top players. It took a total family effort to get her to Maryland for weekday practices and wherever the team's high-level tournaments were held, but it paid off, not only in the acceleration of her play, but also by getting her noticed by coaches from the country's top collegiate programs.
Since Meg has watched her brother, Levi – who also was a two-time U.S. Lacrosse All-American while at Fox Chapel Area High School ­– play for Brown University, she has had a preview of the intensity and competitiveness at the next level. So when she recently received the Georgetown coach's summer workout program, Meg was eager to get to work, as she always does, but with even loftier goals in mind.
"I'll be working out almost every day over the summer, mostly doing strength and conditioning," she says. "I just want to be in the best shape I can going into next season."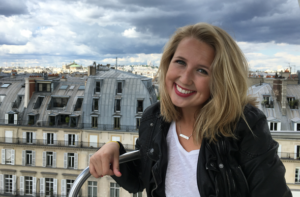 Yet, amid all of the long hours and days she devotes to athletics, the honors student also is grounded enough to know there's more to life than sports. Last summer she studied in France, where she took a course in human rights and law, and met students from all over the world. She has remained friends with some of them, despite many miles of separation.
Of that life-changing trip, she says, "I love traveling and exploring new cultures, and I made some awesome friends while I was there. I still talk to some of them every day. A couple of them are coming here this summer to visit me. One is even traveling to Pittsburgh from Istanbul."
But Meg doesn't take any of her opportunities in life or her achievements in sports for granted.
In fact, among all of her record-breaking accomplishments, says she most wants to be remembered as "a leader who gave it her all and wasn't afraid to be gritty because that's what wins games."
The humble 18 year-old sums up her phenomenal career like this: "I feel very fortunate to be able to do these things, and I'm really honored by all of this recognition. But at the end of the day, I just saw my role as helping the team in any way I could. It was never really my goal to do anything else but that. I just think if you put in the hard work it pays off."