Kristen Friday has always been a forward-thinking kind of gal. From the time she was a high school freshman, the senior captain and number one singles' player on the Foxes' tennis team, had her sights set on college.
Having older siblings, both of whom were very accomplished, Kristen wanted to do something that would set her apart from them and when college admissions counselors looked at her application in several years.
"My sister and brother set the bar high and I wanted to exceed it for sure," says the future mechanical engineer.
And now she has as a recent recipient of the prestigious United States Congressional Award.
Early Planning Leads to Success

After four years in the making, Kristen recently was informed that she was selected as a silver medalist of a nonpartisan United States Congressional Award. The award, established by Congress in 1979, recognizes initiative, service, and achievement in young people.
"It seemed like a really cool opportunity," Kristen says, "and I was really excited to get started. There are four platforms (categories of judging) that are intended to make you a more well-rounded person."
Kristen earned 200 hours volunteering for a ministry; 200 hours for physical fitness pursuits, of which tennis was only one activity; and 200 hours for personal development. She also earned points for organizing a three-day, two-night excursion for the expedition and exploration requirement.
"The silver medal requires 200 hours in each of those categories, but my overall goal is to get the gold medal and that requires 300 hours of volunteering," says the senior who relishes the challenge of competition. "My guidance counselor, John Baxter, was my initial advisor. He helped me set goals that were difficult enough for the program, and since then, he has just been very important to me through the entire process, and also with school and academics."
Efforts Improve Her Tennis Game Too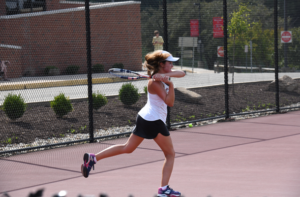 Working toward Kristen's physical fitness goals also boosted her abilities as an athlete. When she first decided to pursue the award in ninth grade, she started playing a lot more tennis and eventually worked her way up the ladder to where she is today. She also started running to get quicker on the court. Not only did her efforts help her win the award, they also have contributed to her success in tennis. So far, Kristen has accrued a regular season career record of 50-6.
Kristen also credits working toward the congressional award for improving her leadership skills, which have been of great benefit now that she is a team captain.
"Just having such a young team is a challenge," says the dual-sport athlete who also runs distance events for the Foxes' track team. "The younger girls haven't been through the process or had the experience that the upperclassmen have had, so I'm trying to set a precedent for success and just help them strengthen their games. That mainly means helping them stay focused, and I also try to keep everyone involved. Overall, it's been a success and we've been winning – together."
Kristen admits that suddenly becoming the number one singles player was a transition of sorts since she was taken off guard when it happened. "I lost my first match of the season, but then I got into the mindset that I can lead this team and help out," she says. "I guess it's working because that was the only match I've lost so far."
"Kristen is a tremendous competitor, role model, and leader for our team this season," says coach Alex Slezak. "It has been a great honor to have known her since she was in elementary school and watch her grow into a young woman who has a strong work ethic, great character, and poise. She is the model of what it means to be a student athlete and what participating in athletics does to shape the lives of young people."
Role Model for Peers
If you think Coach Slezak's characterization of his captain might be a little bit of an exaggeration, it's not.
During her junior year, while she was also studying for the SATs, Kristen took on six Advanced Placement (AP) classes. She was selected by her classmates to serve as this year's president of the Fox Chapel Area High School National Honor Society. They also voted her vice president of student government, and their admiration and respect for her have led to her appearance as part of the annual homecoming court for the past three years.
"I'd like to think that people see me as an upbeat, positive person who tries to be nice to everyone," she speculates. "I'm just honored that people have thought enough of me to vote for me."
While Kristen also participates in a number of other after-school clubs, one of her most treasured activities remains her volunteer work that began because of the congressional award requirements.
"When I first started working with the ministry for the homeless, I was able to lead some of the adults who were new to the program and now that I am a senior, I'm leading everyone who begins volunteering with us, despite my young age," says Kristen. "I am really committed to volunteering."
In addition to discovering her passion for helping others, Kristen says she's learned during her high school years that there is no shortcut or replacement for hard work, whether it's in sports, academics, or in life.
And, her family, teachers, coaches, and friends have learned that when Kristen Friday sets her mind on doing something, she does it, and she does it extraordinarily well.