During the past two years, the girls' swim team has undergone a transition and they couldn't be happier about their new look and the results that have come along with it.
Last season the team went undefeated and won their section championship for the first time in decades. This season they've done almost as well, posting only one loss in section and non-section meets. Plus, they are sending three relay teams, five individual swimmers, and a diver to the upcoming WPIAL AAA Swimming and Diving Championships. They will be held March 1,2 at the University of Pittsburgh's Trees Pool.
"We now have a lot of really strong swimmers who swim year round, as opposed to before when a lot of girls were swimming casually or just to stay in shape for another sport," says senior co-captain Molly Wiese, a four-time WPIAL qualifier. This season, she is advancing to the championship meet as a member of the 200-freestyle and the 200-medley relay teams.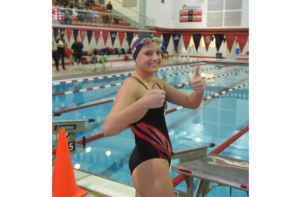 Molly credits the dry land training Coach Dan Taylor instituted this season as another reason why the young team continues to get stronger.
"We bumped up our training and did dry land training three times a week for an hour, and then had two-hour practices afterward," Molly says. "The team really has evolved into being more serious and committed, and that's made it fun and exciting too. The dynamic has really changed for the better."
"We've been working really hard for the past two years to get where we are now," adds senior co-captain Joslyn Filo, who has broken school records in the 50-free and 100-fly events.
This year alone, Florida Gulf Coast University bound Joslyn qualified for the WPIAL meet in five different individual events – the 200-freestyle, 200-IM, 50-freestyle, 100-fly and 100-freestyle – and as a member of the 200-free and 200-medley relay teams.
"Joslyn is one of the most talented girls I've ever coached," says Coach Taylor of his star swimmer. "She has a natural feel for the water and is very versatile. Over the course of four years, she has qualified for WPIALs in every event. She's very competitive. There aren't many girls who are going to beat her."
According to WPIAL championships regulations, swimmers are only permitted to compete in two individual events. Joslyn has decided to swim in the 100-fly and 100-free, although she says she's more excited about swimming with her friends in the relays because it's "more fun."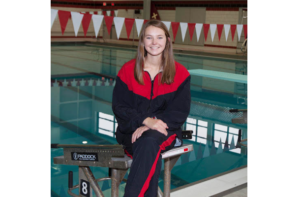 Last year, Joslyn advanced to the PIAA championships in the 50- and 100-freestyle events.
Other girls' team members who will compete at WPIALs are the 200-free relay members Joslyn, Molly, junior Maria Luciana, and freshman Vivian Shao.  Joslyn, Molly, sophomores Jaclyn Filo and Grace Gackenbach advanced in the 200-medley relay; and Grace, Molly, Maria and Vivian advanced in the 400-free relay.
In addition to the relay teams, Grace also qualified individually in the 200-free, 500-free and 100- backstroke, Maria advanced in the 100- and 200-free, and Jaclyn will compete in the 100-breast and 200-IM events. Junior Katie Eames will represent the team at the diving championships.
"It's nice to win, but it's more important for everyone to swim well and give their best effort," adds Joslyn. "I'm happy with the way the season ended."
So is her coach.
"Our girls got some of their personal best times this year and I couldn't be happier with their performance," says coach Dan Taylor.
Hopefully, the girls who compete at the WPIAL championships and their coach will be just as pleased with the way that goes too.