If you look behind the curtain of glitz and gloss that surrounds the Foxes' highly-touted rushing tandem of senior quarterback and Nick Gizzo and senior running back Micah Morris, you'll find a group of tough, hard-nosed unsung heroes whose colossal efforts have made their teammates' record-setting accomplishments possible over the past two years: the offensive line.
This season, the group returned intact and have earned a reputation for being one of the most physical groups in the conference. The senior-laden line includes 2016 all-conference first team pick Riley Michael, who anchors the team at center; right guard Adam Woo; left guard Seth Bowman; left tackle Jesse Cohen; right tackle Scott Hastings; and tight end Luke Brown.
The unit has increasingly beefed up in every way over the past few years. They've made a concerted effort to hit the weight room more frequently and consistently, have worked on their agility, and have pushed themselves to peak levels under the supervision of the school's strength and agility trainers.
"We just decided to become totally dedicated because we got tired of being known as the school that wasn't any good," says Jesse, who is being actively recruited by nine colleges and universities. "I think that having that chip on our shoulders and not making excuses for playing poorly have been motivators and helped us click as a unit."
Their bond carries over to what they do in their spare time too, which includes attending a study group on Sundays and weekly get-togethers when they chomp down as many wings as possible, while talking for hours. It might not be the most nutritious of meals, but they've found it's a valuable way keep the unit intact and have some fun after some pretty intense practices and games.
Tough, Respected Leader
Offensive line coach Reggie Wells, who was an NFL player for 10 years and a captain of the Arizona Cardinals team that played in the XLIII Super Bowl against the Steelers, says, "This line can get it done in a variety of ways and adapt to many different blocking schemes. What will make the difference going forward into the playoffs are the details, and that starts at practice. It's almost as if playoffs are a different season. One mistake can make the difference in the team crying tears of joy at the end of the game, or a different kind of tears that aren't so good."
Coach Wells characterizes his offensive line as having a barnyard mentality and possessing the toughness the coaching staff has tried to instill since Coach Tom Loughran took over the team three years ago. The players say Coach Wells is "tough and sometimes scary," but in the same breath, credit him for making them into better players than they ever thought they could be.
"He found us some used NFL sleds for practices and he's brought a lot of what he learned from the pros to our practices," says Riley. "He knows everything about everything. We have more plays in our playbook than most teams and the drills we do are NFL drills."
Deserved Recognition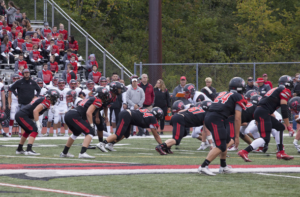 While Coach Loughran's staff tries not to single out too many individuals, there are times when performances are so good that well-deserved praise is in order. According to Coach Wells,
"Riley is the premiere guy in his position in our conference. His knowledge and experience are amazing. He is, hands down, a borderline genius when it comes to reading defenses and in getting us to move into our blocks and sustain them. It's what gives us a chance against the big boys who play upfront on opposing teams."
"Jesse is another of our most experienced guys and he has great technical skills. The looks he's getting from Division I and II schools are the result of his work ethic, leadership, and determination to play at a higher level."
"Scott is relentless and will stay with his block for as along as it takes. He has as much to do with the team's demeanor as anyone else."
"Adam is, pound-per-pound, one of our most athletic players and his technical side and experience show on the field."
"Seth is by far the most improved player on our team, maybe even in the conference. Each and every Friday he impresses me. From day one when he took over a whole new position, he's mentally processed everything and never looked back."
"Luke is probably the most competitive player on the team and the indisputable leader. Although technically he's a tight end, he blocks as much as anyone on a nightly basis and he's very good at what he does. He's tenacious, physical, and really a driving force on how we operate up front."
With those accolades, it's not surprising that the O-Line has played a huge role in the team's best season in 15 years and the 3,654 yards on offensive that they've racked up. Most of the line also plays on the other side of the ball and has helped hold opponents to just 2,628 yards all season. They are all-purpose players, and they rarely get to take a rest.
Nothing Beats a Great Running Game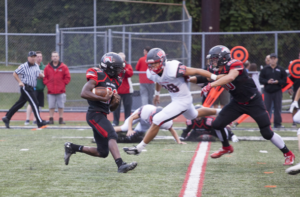 "When the running game gets going, it's so much fun," says Riley, a 2016 first team all-conference pick and a true student of the game. "When we've done our job as linemen and I see Micah or Nick run through tackles, and then when they think they've brought them down, and they roll around and spin just to get extra yards… I just laugh because everyone is having such a good time out there."
Micah, a 6'2", 234-pound elusive runner who is quite agile despite his size, and 6' 1", 185-pound Nick, a patient runner with a combination of quickness and speed, will need their line more than ever to clear the way for some end zone celebrations when they play the game of their lives at the WPIAL Class 5A quarterfinals on November 3.
They'll be glad to oblige. In fact, it's an opportunity the line has looked forward to for a very long time.
"None of us have been to the playoffs before, and I know for myself, I'm just trying to stay calm and focused, even though this is all very exciting," says Riley.
"I've had this group of guys since they were sophomores and they have come a long, long way," says Coach Wells. "When I came here three years ago, I could relate to them more than they knew. I'm proud of them when we're still in the battle, but then when I watch film the next day, I get even prouder of them and their effort. We have more of a story to write. We're not done yet."